Scaling & Root Planing – Waco, TX
Removing Harmful Plaque to Improve Gum Health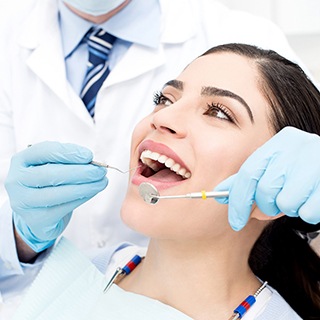 Gum disease is an all-too-common condition that affects millions of adults living in the United States. If you catch it during the earliest stage (i.e., gingivitis), you might be able to heal your smile with better oral hygiene. However, more advanced forms of gum disease will require dental intervention.
At Heart of Texas Smiles, we can minimize complications and improve gum health with scaling and root planing! This non-invasive technique will get your smile back on the right track in no time. Give us a call today to learn more about this unique method of care.
Why Choose Heart of Texas Smiles for Scaling & Root Planing?
Deep Cleaning to Thoroughly Remove Infection
Calming Sedation Dentistry Offered
Advanced Dental Technology to Ensure Effective Treatment
How Does Scaling & Root Planing Work?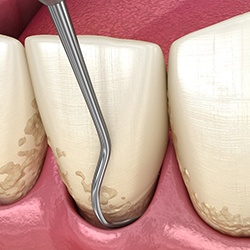 The first step in this process is an oral examination conducted by our team. We'll carefully examine your teeth and gums to determine if there are gum pocket formations and plaque and tartar spreading beneath the surface. Once that's confirmed, you will receive mild sedation to ensure you're fully comfortable throughout the procedure.
Next, we'll use specialized dental instruments to perform the scaling part of the process. This means we'll scrape away any plaque and tartar accumulations around your teeth and gum line before moving deep within the gum pocket. After that step is done, we will move on to the root planing portion. Since gum disease causes the tissue to pull away from your tooth root, we'll need to smooth out the area to encourage the tissue to reattach and prevent further gum recession.
When you're done, we'll brief you on how to prevent reinfection. Usually, we recommend having a dental checkup and cleaning every three months to ensure your gum tissue remains healthy. Our practice will make sure your smile remains happy and healthy for as long as possible!
Who Needs Scaling & Root Planing?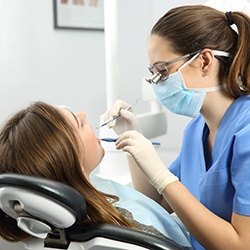 Scaling and root planing is only recommended if gum disease has progressed past a certain point. If you notice any of the following symptoms, you may be a good candidate for this service:
Bleeding when you brush or floss
Gum recession
Persistent bad breath or a bad taste in your mouth
Shifting teeth
Difficult chewing
Visible plaque buildup
Why Is the Procedure Beneficial?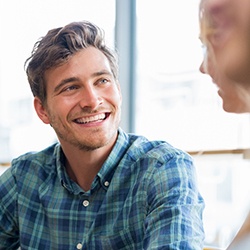 Not only is scaling and root planing a great way to minimize the potential for future reinfection, but it will ensure your natural teeth last longer than expected. With this service, you can avoid needing unnecessary tooth replacement solutions down the line and prevent your body's immune system from weakening even more. Best of all, you'll be able to enjoy a much healthier and more beautiful smile!
Aftercare Instructions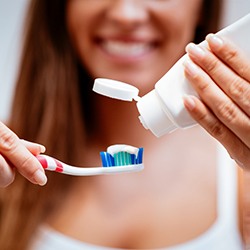 When you finish your scaling and root planing procedure, there are many things you'll want to do to care for your smile. Here are some aftercare tips to keep in mind:
If you receive anesthesia or sedation, you should avoid eating or chewing until the effects have fully worn off
Stick to soft foods for the first 48 hours following your procedure
Do not smoke, use tobacco products, or drink for at least three days
Take prescribed or over-the-counter pain medication as instructed
Rinse your mouth with warm saltwater to minimize discomfort and swelling
Continue your usual oral hygiene routine, except be careful around your gum line and only use a soft-bristled toothbrush