Invisalign® Clear Braces - Waco, TX
The Clear Path to Straighter Teeth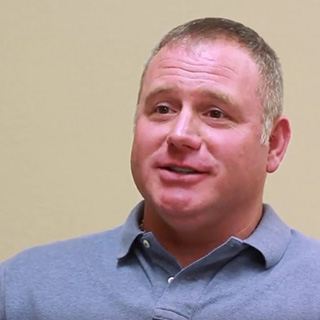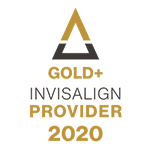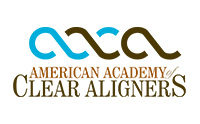 Maybe you didn't get braces when you were younger. Maybe you did, but your teeth have shifted out of alignment since then. In either case, chances are you want to straighten your teeth, but the idea of wearing braces as an adult makes you cringe. Invisalign can help you get the beautiful, straight smile you've always wanted — without the hassles that come with metal braces. At Heart of Texas Smiles, we proudly offer Invisalign in Waco for patients who want to take the clear path to straighter teeth. Call us today if you'd like to schedule an Invisalign consultation!
Why Choose Heart of Texas Smiles for Invisalign® Clear Braces?
Straightens the teeth without noticeable metal brackets & wires
100% removable—eat whatever you want during treatment
Often able to work faster than traditional braces
What is Invisalign®?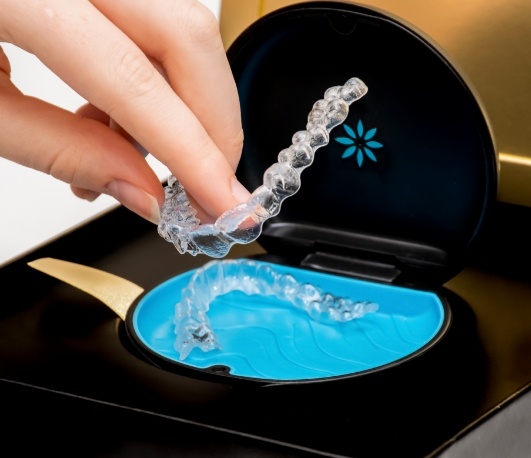 Invisalign® uses a series of clear aligners that are invisible, removable, and comfortable. People notice you and your smile instead of metal brackets and wires. Invisalign® aligners are made with 3-D computer imaging technology based on a computer model of how teeth move and are proven effective. See the video below for some computer models of how Invisalign® moves teeth.
Why choose Invisalign®?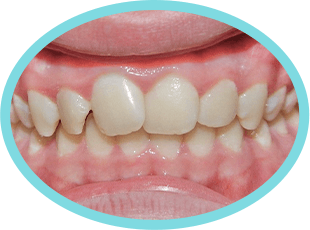 Before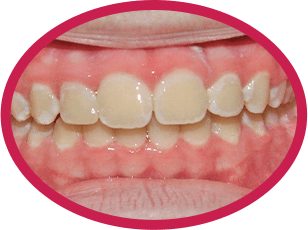 After
In addition to being virtually unnoticeable, Invisalign® aligners are removable. That means you can eat and drink what you want during treatment. Additionally, oral hygiene such as brushing and flossing is easier and more thorough. The aligners are comfortable and contain no metal to cause mouth abrasions during treatment. No metal and wires usually mean fewer follow-up visits for adjustments. Invisalign® technology allows patients to view their virtual treatment plan when they start so they will know how their straight teeth will look when treatment is complete. Most often, Invisalign® also allows treatment to be completed in a shorter time than conventional braces due to the precise application of force and movement of the teeth.
How Does Invisalign Work?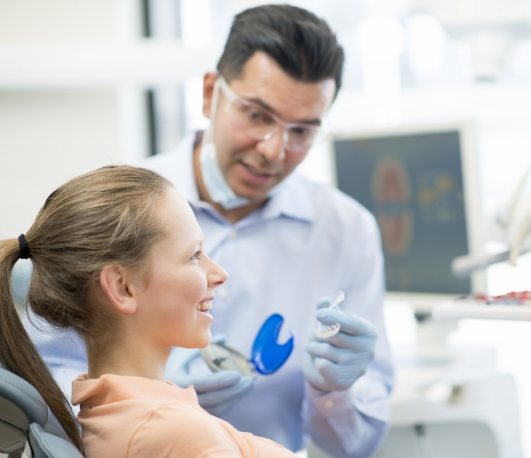 Invisalign® patients wear each set of aligners for two weeks and remove them only to eat, drink, brush and floss. As each aligner is replaced with the next in the series, the teeth move little by little, week by week, until they have reached the final position. You'll visit our office once every six weeks to ensure treatment progress as planned. Total treatment time averages about 1 year and the average number of aligners worn during treatment is about 24, but both vary from case to case.
Understanding the Cost of Invisalign
Are you dreaming of a perfectly aligned smile in your future? Invisalign could be that solution that you're looking for. It has so many unique benefits that you can't find with other orthodontic options. However, you should consider the cost upfront so that you aren't left with any unnecessary surprises. To learn exactly how much you can expect to pay for Invisalign, give us a call so we can schedule your initial consultation. In the meantime, here are some things for you to consider.
Factors that Affect the Cost of Invisalign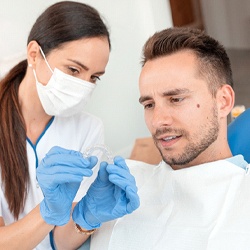 The cost of Invisalign will vary from person to person based on a few main factors:
Number of Arches: Most people who undergo Invisalign treatment will straighten both their upper and lower arches. However, in some cases, only one arch needs to be addressed. If this is the case for you, the cost will ultimately be lower.
Complexity of Case: Some cases are more complex than others, driving up the cost. If you have more severe misalignment issues, your treatment is likely to cost more.
Length of Treatment: A longer treatment times means more aligners and a higher cost.
Invisalign VS Smile Direct Club™: Which Costs More?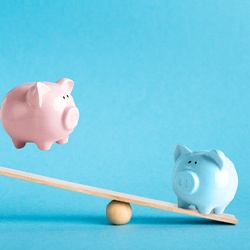 When patients are looking for a "quick fix" for their smile, Smile Direct Club™ and other low budget options can seem tempting. However, a lower cost doesn't necessarily mean that it's a better option. The price is generally lower than the cost of Invisalign, but Smile Direct Club™ has a "do-it-yourself" approach with little-to-no oversight from a dental professional. This ultimately means more room for errors to be made. You could even end up with some serious issues that will need to be treated by a professional in the long run.
The good news is that with Invisalign, you have the trusted oversight of your dentist for each step along the way. Invisalign is professionally made, uses highly accurate impressions, and will result in a more successful treatment process overall. The difference in cost is certainly worth it for a worry-free, smooth orthodontic treatment.
Does Dental Insurance Cover Invisalign?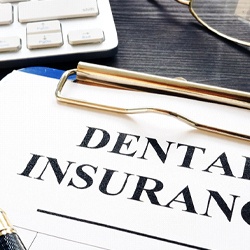 Some dental insurance plans include coverage for orthodontic treatment, so you should check with your provider to see what your benefits entail. Our practice is in-network with numerous popular dental insurance plans. One of our friendly team members would be happy to help you navigate your benefits.
Options for Making Invisalign Affordable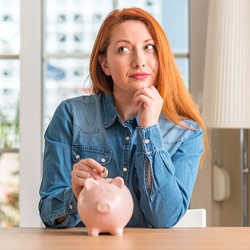 If you don't have dental insurance, this doesn't necessary mean that you're left completely on your own. Our Quality Dental Plan can help you to save on preventive, basic, and major procedures. We can also help you to break up the cost of your care with a flexible financing plan. Both CareCredit and Lending Club offer a wide selection of plans, many with little-to-no interest. Contact us to learn more about your payment options.
The best way to learn about the cost of your Invisalign treatment is by scheduling an initial consultation with us. We're eager to help you work towards a straighter smile!
Invisalign FAQs
Thanks to Invisalign, you no longer need to sport a mouthful of metal brackets and wires in order to achieve a straighter smile. However, you may still have some unanswered questions about the treatment process, so we're here to help! Here are the answers to some of the most common questions we receive about Invisalign in Waco. If you don't see the information that you're looking for below, don't worry! Give us a call and we'd be happy to answer your questions and get you started with an initial consultation.
What Does Invisalign Look Like?
Invisalign is designed with clear plastic, so they are visible when outside of the mouth, but very difficult to detect once they're being worn. With proper maintenance, the aligners can be kept clean, clear, and discreet. Unlike traditional braces that require brackets and wires, Invisalign's clear aligners won't take away from your appearance. In some cases, patients will require attachments, buttons, or elastics that help during the alignment process. These items aren't made of clear plastic, so they may be slightly more visible.
Does Invisalign Hurt?
Invisalign should not be a painful treatment. Its smooth plastic design actually makes it one of the most comfortable orthodontic treatments out there. When you first get Invisalign, there's an adjustment period where you may experience slight soreness, but this will go away once you get used to the treatment. Invisalign works by gradually shifting your teeth into proper alignment by using a series of aligners. Each time you switch to the next aligner in the series, you may experience some pressure, but this just means that the treatment is working. Any discomfort can be managed with over-the-counter pain relievers and cold compresses.
Can You Eat with Invisalign?
One of the main advantages of Invisalign is that your aligners are completely removable. This gives you the ability to take them out when mealtime comes around. Eating with your Invisalign aligners in your mouth can damage your aligners and put unnecessary pressure on your teeth. The only thing that you should be consuming when you're wearing your Invisalign is water. If you want to enjoy anything else, you should take your trays out and store them in a safe place.
How is Invisalign Made?
Invisalign's process requires a series of aligners that are made from smooth, clear plastic. The entire set of aligners is manufactured by an advanced 3D printing process before getting shipped to your dentist's office. Invisalign is made with the impressions provided by your dentist. Typically, the manufacturing process takes about 3 to 4 weeks. Then you will be notified by your dentist when you can pick them up.