Invisalign® Clear Braces - Waco, TX
The Clear Path to Straighter Teeth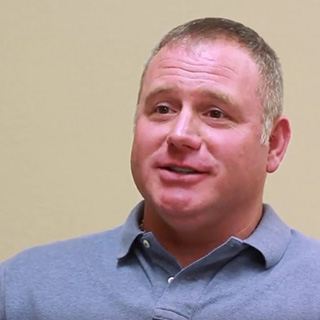 Dr. Cobb is a certified Invisalign® Gold II Providers. He was chosen by Invisalign® to be part of a select group of general dentists from across North America called Reingage. Dr. Cobb participates in specialized training and collaboration with this select group. He is in the top 4% of Reingage in the number of Invisalign® cases completed. From simple to complex cases, Invisalign® can help you get the beautiful, straight teeth you've always wanted — without metal braces. Invisalign® treats the vast majority of cases and can save you time and money as well. Please call or email our office for your free consultation with our Top Premier Preferred Provider of 2015, 2016 and 2017.
Why Choose Heart of Texas Smiles for Invisalign® Clear Braces?
Straightens the teeth without noticeable metal brackets & wires
100% removable—eat whatever you want during treatment
Often able to work faster than traditional braces
What is Invisalign®?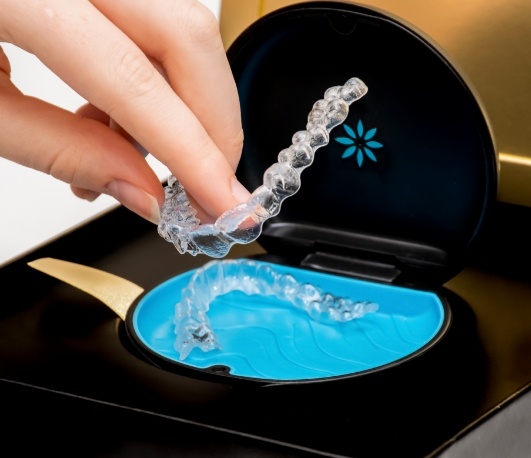 Invisalign® uses a series of aligners that are invisible, removable, and comfortable. People notice you and your smile instead of metal brackets and wires. Invisalign® aligners are made with 3-D computer imaging technology based on a computer model of how teeth move and are proven effective. See the video below for some computer models of how Invisalign® moves teeth.
Why choose Invisalign®?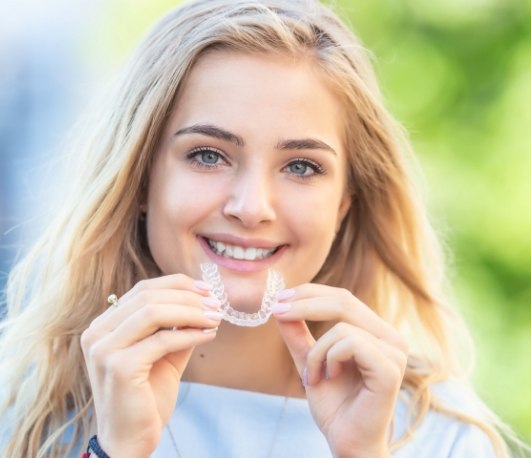 In addition to being virtually unnoticeable, Invisalign® aligners are removable. That means you can eat and drink what you want during treatment. Additionally, oral hygiene such as brushing and flossing is easier and more thorough. The aligners are comfortable and contain no metal to cause mouth abrasions during treatment. No metal and wires usually mean fewer follow-up visits for adjustments. Invisalign® technology allows patients to view their virtual treatment plan when they start so they will know how their straight teeth will look when treatment is complete. Most often, Invisalign® also allows treatment to be completed in a shorter time than conventional braces due to the precise application of force and movement of the teeth.
How does it work?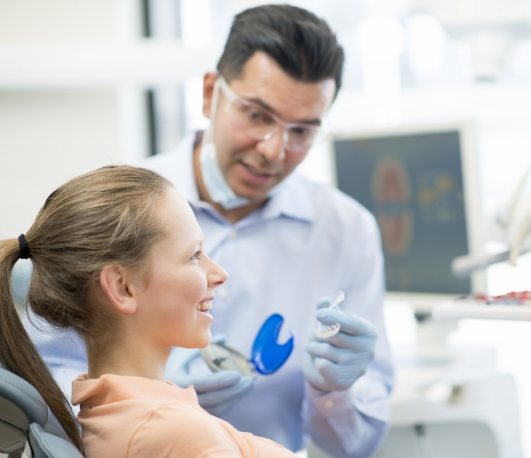 Invisalign® patients wear each set of aligners for two weeks and remove them only to eat, drink, brush and floss. As each aligner is replaced with the next in the series, the teeth move little by little, week by week, until they have reached the final position. You'll visit our office once every six weeks to ensure treatment progress as planned. Total treatment time averages about 1 year and the average number of aligners worn during treatment is about 24, but both vary from case to case.
What are the treatment options and cost?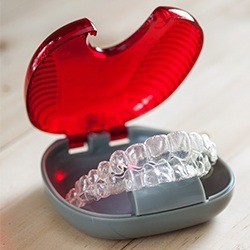 General dentists and orthodontists provide Invisalign® treatment. Successful outcomes depend on specific Invisalign® skill level and attention to detail. In researching provider options, you will likely also notice a vast difference in treatment cost. A provider does pay a per-case cost to Invisalign®, however, he or she constructs patient pricing with free will. Straight from our patients' treatment plan comparisons, our office cost for Invisalign® has commonly been more than $1,000 less than other local general dentists and orthodontists. Why? We want this service to be affordable for you! We conceal no hidden costs and we include a final set of retainers. Our average treatment costs run between $3000 and $4200. The difference in cost is dependent upon the length of the treatment plan. Save your money and take a vacation to celebrate your stunning SMILE!
What are the payment options?
We have several different options for payment. We require $500 down and with the remaining balance to be paid over the course of your treatment. If paid in full before treatment has started, you will get 5% off. We also accept payment from third party financings such as Capital One, Springstone, CareCredit, and Citihealth. You have the option of no interest payments for 6,12,18, or 24 months through Carecredit or Citihealth. Please contact the office if you have any further questions about payment options. We are your advocate!
As Waco's only general dentist with the experience to be an Invisalign ® Gold II Provider, we look forward to helping you. Please call or email for your free consultation today.