Teeth Whitening - Waco, TX
Make Your Smile Shine Again

We offer professional teeth whitening at our office. This means that, for $150, we provide custom trays and whitening solution. For this procedure, we take an impression (mold) of top and bottom teeth and build customized trays that precisely fit teeth. You then wear these trays overnight until you reach the level of whitening you desire.
Why Choose Heart of Texas Smiles for Teeth Whitening?
Fast in-office & convenient take-home treatments available
Able to eliminate stains caused by coffee, wine, tea, tobacco, & age
KOR Bleaching: Unmatched whitening power
1) Does whitening toothpaste or mouthwash work?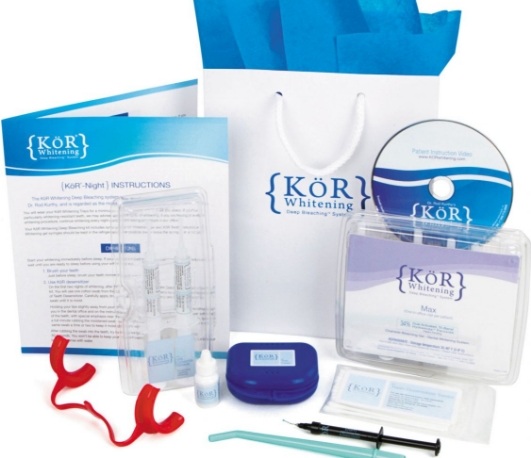 Whitening toothpaste is often only titled "whitening" due to the extra abrasives which scratch off stains. It may "whiten" them externally, but not internally like most people desire. Mouthwashes eliminate bacteria, but often do not change the color of teeth, especially since they're in contact with the enamel surfaces for such a brief period of time when in use.
2) What do you offer for teeth whitening?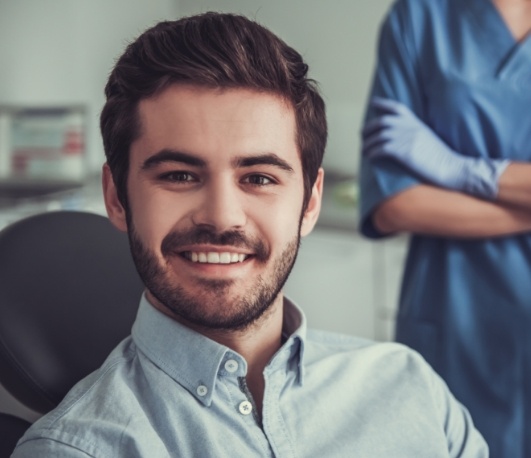 Teeth need to be healthy and approved by the dentist before whitening. We currently offer multiple options to whiten teeth at our office. The key to any whitening system is to remove dark pigmented habits before and after whitening. This includes smoking, red wine, coffee, etc.
KöR MAX™ is a versatile and effective whitening system that combines at-home whitening with a single in-office whitening visit. This option provides the very best possible whitening result for the typical patient. Treatment: 2 weeks of at-home nighttime whitening with KöR-Night 16% carbamide peroxide; a single in-office whitening visit utilizing KöR 34% Dual-Activated, Tri-Barrel Hydremide® Peroxide gel, and periodic at-home maintenance. This is best for these seeking a more dramatic result. Cost: $500
Smile Perfected™ is a simple-to-use, effective technology, including a patented pre-filled whitening tray that fits comfortably and allows the person to relax the jaw while their teeth whiten. Vitamin E oil is applied to help protect the lips & gums. The tray applies a gentle layer of gel. This gel is specially formulated for maximum results without the sensitivity. The gel is activated using the Smile Perfected™ LED light for 20 minutes to achieve professional whitening results with no sensitivity or pain. Cost: $99
Take-home bleach trays are custom made in the office and sent home with the patient for self-paced whitening. Iveri (14% hydrogen peroxide) gel is used by placing a small dot into each tooth "well." Trays should be worn 5-10 minutes up to one time daily. (DO NOT EXCEED 10 MINUTES. After wearing trays, clean teeth and trays by removing gel with water and toothbrush. Store gel in a refrigerator and trays in a cool, dry place. Replacement gel can be purchased directly from the office. Original cost for custom trays and bleach syringes: $150

Everyone's teeth whiten at different rates. Some teeth absorb whitening gel readily, while others are more resistant to whitening. Consistency is key, as teeth will change throughout habits and with time.
3) At what age is it safe to whiten teeth?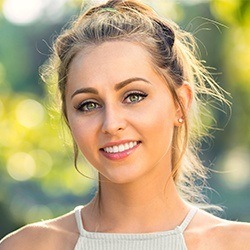 Teeth are safe to whiten once fully developed both visually, and within the bone. The doctor will decide if the patient's teeth are mature enough and ready to be whitened. Younger patients can expect heightened levels of sensitivity after whitening and may need to modify whitening times to expose the teeth for less time or to lengthen time between whitening sessions.
Take Home Whitening Instructions
Brush and floss your teeth (works better on teeth and not plaque!)
Remove the cap to a syringe of whitening solution.
Place a small dot of whitening gel into the front of each tooth "well" for teeth to whiten.
Seat the tray with the gel around the teeth.
Wipe away any excess gel around the gums with your finger or a tissue or toothbrush.
Wear the trays every day or as often as you can tolerate wearing them. Wear them for 5-10 minutes each day (DO NOT EXCEED 10 MINUTES UNLESS YOU LIKE SENSITIVE TEETH!)
After treatment, remove the trays.
Rinse your mouth out and brush again to remove whitening solution.
Rinse the tray out, dry, and store in a cool, dry place.
DO NOT eat, drink, or smoke while wearing your whitening trays.
Keep syringes in a cool place (even the refrigerator).
AVOID red wine, grape juice, coffee, etc that could cause staining of the teeth.
Bleaching can be completed up to once daily. Decrease use to every other day or every third day or longer if sensitivity occurs.
If you run out of bleach, you can purchase more from our office.
1 for $25, 2 for $40, 3 for $50
What to expect
You may expect slight gum or tooth sensitivity after wearing the trays. If you feel more than a slight sensitivity of the teeth or gums, please give us a call. You may notice your teeth look 'funny,' where they look like they developed white spots. The color may look too opaque (chalky,) but will even-out with further whitening. Gums may also "bleach out" if bleach sits on them for too long but they recover quickly and is an indication to use less bleach material at your next session to lessen overflow.
Trays, if taken care of and not exposed to very hot temperatures and protected from being crushed, can last a long time - Dr. Lassetter still has and uses her trays from 2011 when she shadowed in an office before dental school!