General Dentistry – Waco, TX
Maintain Good Oral Health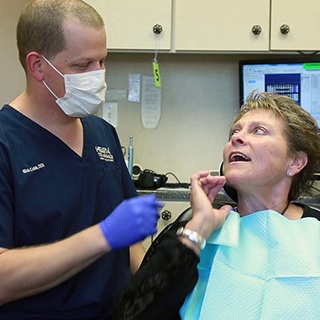 When it comes to maintaining the health and beauty of your smile, you want to know that our dentists have your family's best interests in mind from day one. At Heart of Texas Smiles in Waco, Dr. Lassetter and Dr. Rivacoba are genuinely committed to the health, comfort, and wellbeing of each valued patient, offering a wide range of general and family dentistry solutions to meet your every need.
Why Choose Heart of Texas Smiles for General Dentistry?
Happy to treat children & adults alike
Get rid of chronic facial pain & headaches w/ TMJ therapy
Relieve dental nerves with sedation dentistry
Dental Checkups & Cleanings
Many oral health problems don't present any symptoms during their early stages, meaning that most patients don't notice something until an issue is already quite advanced and difficult to treat. To save you from this kind of headache, we recommend that you get at least two checkups and cleanings each year. These appointments will enable our dentists to find and treat any dental decay or damage as early as possible, and a dedicated cleaning will remove harmful plaque and tartar from those hard to reach areas in your mouth to stop cavities before they even start.
Fluoride Treatments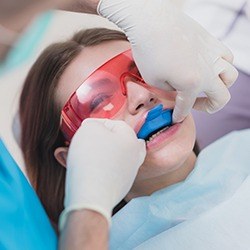 Fluoride is all around us if you look hard enough. You'll find it in many foods and added to toothpaste and even community water sources. That's because regular exposure to this mineral has long been shown to strengthen the teeth and lower a person's risk of developing tooth decay. To give you an extra weapon in the fight against cavities, we can provide a topical fluoride treatment during your regular checkups. It only takes a minute, is completely painless, and it will go a long way in keeping your teeth happy and whole between appointments.
Nightguards for Bruxism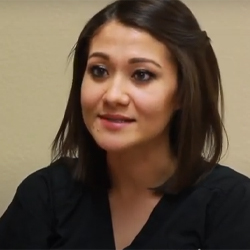 Does your jaw always feel sore in the morning, or do your teeth look like they've been worn down flat? If so, then you might be unconsciously grinding your teeth while you sleep, which is called bruxism. This exposes the teeth to forces far exceeding normal chewing and biting, and over time, it can severely damage and even break the enamel. To keep your smile safe, we can have you wear what is called a nightguard to bed. This small oral appliance fits comfortably over the teeth and places a barrier between the top and bottom rows to prevent any harmful contact during the night.
Dental Sealants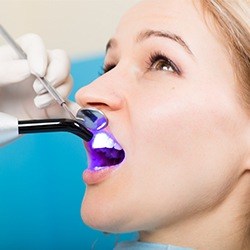 Your teeth come in many different shapes and sizes, and the back teeth, with their wide and pitted surfaces, are by far the most vulnerable to developing cavities. The deep grooves can easily trap plaque and tartar, and they can be quite tricky to adequately clean while brushing (especially for young children who are still learning). Fortunately, a dental sealant can give these teeth the extra protection they need. We simply apply a clear, plastic-based liquid to the teeth, and it quickly hardens into an invisible barrier that cavity-causing plaque, bacteria, and acids cannot cross.
Oral Cancer Screening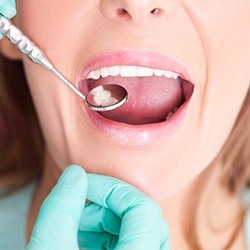 Oral cancer is actually very easy to miss during its early stages, and without quick detection and treatment, it can be extremely hard to treat and even survive. Nothing gets past our team's trained eyes, however, which is why we perform an oral cancer screening at every routine checkup. We'll look for any suspicious sores or growths in and around your mouth, and if we find something, we'll help you get the follow-up care you need right away.
Sleep Apnea Treatment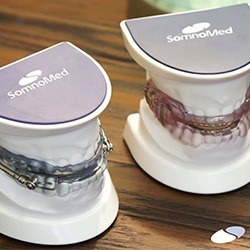 Sleep apnea affects about 22 million Americans every night, robbing them of their much needed rest and even their mental and physical health. For people in need of a sleep solution, one can be found at a place they might not expect—Heart of Texas Smiles! We can provide custom-made oral appliances that prevent the airway from becoming blocked throughout the night, enabling patients to sleep deeply and wake up feeling energized and focused every morning. This approach can even be used to help patients who are CPAP intolerant!
Learn More About Sleep Apnea Treatments
TMJ Therapy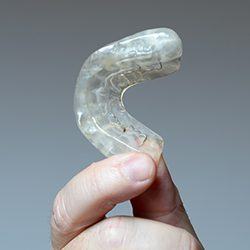 Your TMJ, or temporomandibular joint, is the small set of hinges that connects your jaw to the rest of your head and enables it to move fluidly in all directions. Like other joints in the body, it can sometimes develop problems due to strain, injury, or misalignment, leading to symptoms like pain in the jaw, ears, head, neck, shoulders, and even back! Thankfully, the team at Heart of Texas Smiles has the special training to not only diagnose these kinds of problems, but provide treatments to make them go away and stay away as well.
Sedation Dentistry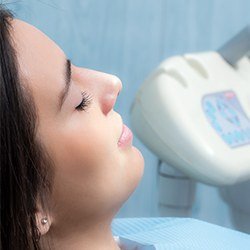 Does going to the dentist make you feel a bit nervous or even scared? Dental anxiety is perfectly normal, but if it's enough to make you regularly miss out on your necessary dental care, then sedation dentistry might be exactly what you need. Using either gentle nitrous oxide (laughing gas) or a prescribed pill, we can help make dental fears melt away and ensure that a patient doesn't feel any pain while in the chair, leading to stress-free appointments every time.
Learn More About Sedation Dentistry
Gum Disease Treatment
The gums play an incredibly important role in your oral health. When the gums become infected due to unremoved plaque, it can not only cause them to feel tender and sensitive, but actually put you at major risk of permanent tooth loss. Thankfully, Heart of Texas Smiles offers multiple solutions for treating gum disease and getting your oral health back to normal. Whether your next treatment is surgical or non-surgical, we'll make your comfort a top priority.
Cone Beam Scanner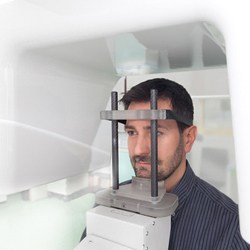 Our cone beam scanner, which is also known as a CBCT scanner, is an advanced type of X-ray. This remarkable tool lets us get an in-depth, three-dimensional look at teeth, bones, and connective tissues. We use this machine to plan complex treatments, like dental implant placement and root canal therapy. It is also a valuable teaching tool that empowers us to give patients a firsthand understanding of the inner workings of their mouth.
Learn More About Cone Beam Scanner
Children's Dentistry

The youngest smiles in your family deserve the same, high-quality dental services, which is why we offer children's dentistry. As your child grows, it is important that their oral health remains on track to prevent possible tooth decay, gum disease, or bite issues from developing. Our team can help monitor your child's oral development and address any problems in their early stages to help minimize the need for fillings, crowns, or other restorative or orthodontic treatments in the future.
Learn More About Children's Dentistry
Contact Our Waco, TX Dentist Office Today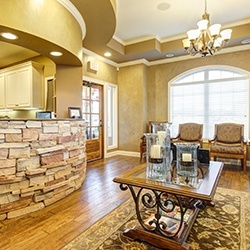 For a comprehensive array of dental solutions for everyone in your family, trust the experienced, caring team at Heart of Smiles Texas in Waco. From routine exams, cleanings, and periodontal therapy to restorative procedures like dentures, partials, and more, we're your premier destination for exceptional oral healthcare. Contact our office today to schedule your visit and see the difference our dedication and skill make in your smile. Our cutting-edge dental facility proudly serves patients from Waco, TX and the surrounding areas, including West, Woodway, and more.