Traditional Braces - Waco, TX
The Trusted & Reliable Orthodontic Solution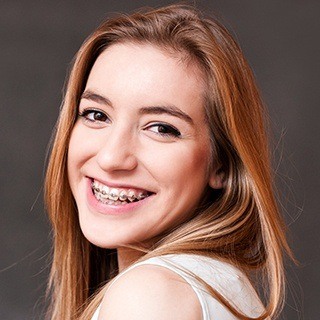 Traditional braces in Waco are a solution that can help patients of all ages enjoy smiles that function well and look beautiful. Metal braces are dependable, affordable, and it's easy for teens and adults alike to comply with the treatment. Keep reading to find out more about how conventional braces work and whether or not they are right for you or your child. If they are, Dr. Nick Cobb, Dr. Theresa Lassetter and our team look forward to getting started with your treatment right away.
Why Choose Heart of Texas Smiles for Traditional Braces?
General & specialized dental care all under one roof
Durable, reliable, & affordable
Perfect for patients of all ages
How Do Traditional Braces Work?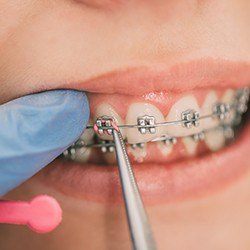 Conventional orthodontics uses metal brackets and wires to place focused pressure on different areas of the bite throughout the treatment to bring the teeth into the proper position. Your dentist will gradually tighten the wires in 6-week intervals, according to the specifics of your treatment plan. Special rubber bands or appliances may be used as well. The average treatment time with conventional braces ranges from 1 to 2 years, but it can possibly be longer depending on the complexity of the case.
Who Can Get Traditional Braces?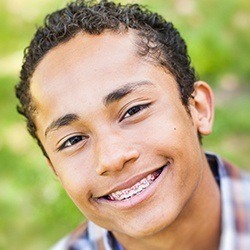 Most patients who have dental misalignments can benefit from braces in Waco. Children as young as 7 can often begin with early orthodontic intervention, which can make future treatments shorter or unnecessary. Adults and teens alike can benefit from conventional metal braces.
This orthodontic method can correct virtually every orthodontic issue, including the following:
Crowded teeth
Gapped teeth
Overbite, when the top teeth reach too far over the bottom
Underbite, when the lower teeth cover the top
Crossbite, when the upper and lower teeth do not meet properly
Open bite, when the upper and lower jaws do not meet at all
You should be in good oral health before beginning with metal braces. We will schedule a checkup and cleaning in advance of your orthodontic treatment. If you have cavities or gum disease, we will schedule treatment before or alongside braces.
What's the Cost of Traditional Braces?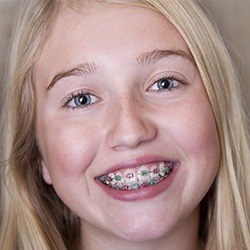 The total cost of traditional braces depends on the particulars of your treatment. A case that lasts just one year will of course be less expensive than one that takes two or more years to complete. Additionally, how well you care for your braces throughout the treatment will influence the price. Popping off a bracket or wire will require additional visits to the dentist and the use of additional materials. It is easy to comply with the treatment for conventional braces -- just make sure you follow your dentist's instructions and avoid eating hard, sticky, or crunchy foods. Protect your braces and your mouth with a customized mouthguard if you play contact sports. And, of course, visit your dentist as recommended for the routine check-ins. Comply with your treatment and you will enjoy a straight, well-functioning smile before you know it!
Don't Wait to Get Started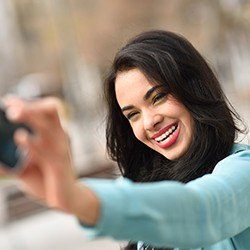 No matter your age, it's always a good time to get started on improving crooked, crowded, and otherwise misaligned teeth. Find out whether or not traditional braces are a good option for your smile today -- request an appointment with your dentist in Waco at Heart of Texas Smiles!