Traditional Braces - Waco, TX
The Trusted & Reliable Orthodontic Solution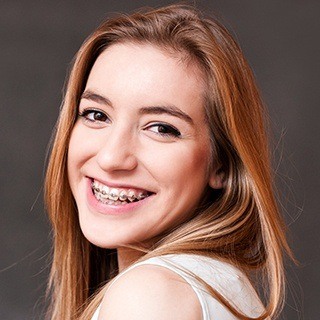 Traditional braces in Waco are a solution that can help patients of all ages enjoy smiles that function well and look beautiful. Metal braces are dependable, affordable, and it's easy for teens and adults alike to comply with the treatment. Keep reading to find out more about how conventional braces work and whether or not they are right for you or your child. If they are, Dr. Lassetter and Dr. Rivacoba and our team look forward to getting started with your treatment right away.
Why Choose Heart of Texas Smiles for Traditional Braces?
General & specialized dental care all under one roof
Durable, reliable, & affordable
Perfect for patients of all ages
How Do Traditional Braces Work?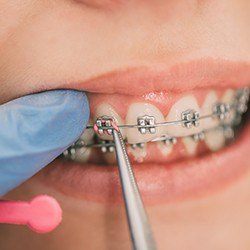 Conventional orthodontics uses metal brackets and wires to place focused pressure on different areas of the bite throughout the treatment to bring the teeth into the proper position. Your dentist will gradually tighten the wires in 6-week intervals, according to the specifics of your treatment plan. Special rubber bands or appliances may be used as well. The average treatment time with conventional braces ranges from 1 to 2 years, but it can possibly be longer depending on the complexity of the case.
Who Can Get Traditional Braces?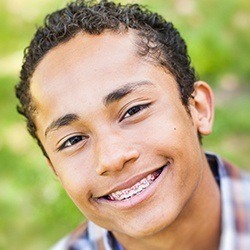 Most patients who have dental misalignments can benefit from braces in Waco. Children as young as 7 can often begin with early orthodontic intervention, which can make future treatments shorter or unnecessary. Adults and teens alike can benefit from conventional metal braces.
This orthodontic method can correct virtually every orthodontic issue, including the following:
Crowded teeth
Gapped teeth
Overbite, when the top teeth reach too far over the bottom
Underbite, when the lower teeth cover the top
Crossbite, when the upper and lower teeth do not meet properly
Open bite, when the upper and lower jaws do not meet at all
You should be in good oral health before beginning with metal braces. We will schedule a checkup and cleaning in advance of your orthodontic treatment. If you have cavities or gum disease, we will schedule treatment before or alongside braces.
Understanding the Cost of Traditional Braces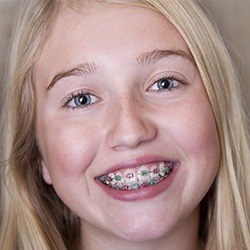 The total cost of traditional braces in Waco depends on the particulars of your treatment. For example, a case that lasts just one year will of course be less expensive than one that takes two or more years to complete. During your consultation, we will be able to evaluate your situation and provide you with a personalized cost estimate. In the meantime, the below information may help you to anticipate what will be involved in paying for your treatment.
Factors That Affect the Cost of Traditional Braces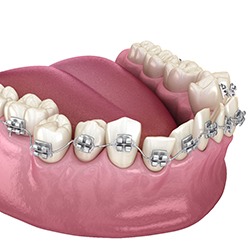 There are a number of factors that can affect the cost of braces, including:
The severity of your misalignment. This affects treatment length, what type of accessories you will need, and more. It is the biggest contributing factor to the overall price of braces.
Adults' teeth tend to move more slowly than those of younger people, which can make treatment more complex and slightly more costly.
The number of appointments needed. Braces must be adjusted periodically throughout the treatment. How frequent your appointments are can influence the total cost of your care.
Compliance with treatment guidelines. Failing to wear your elastics, or eating food that damages your braces, can delay your treatment and incur extra expenses.
Professional Braces vs. "DIY" Braces: Which Costs More?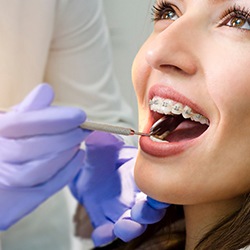 You might have seen reports on social media about people who have created their own "braces" in Waco using household objects, such as fishing line, superglue, and paperclips. At first, such methods might seem like a great way to save money, especially if you are on a tight budget and don't want to spend thousands of dollars on professional braces.
However, extreme caution is in order. Many people who have tried DIY braces have ended up worsening their dental misalignment. They may also harm their tooth enamel and gums. Correcting such issues can be much more expensive — and uncomfortable — than investing in professional treatment in the first place.
Does Dental Insurance Cover Braces?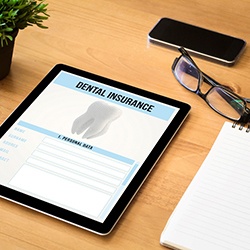 Some higher-end dental insurance plans cover braces. Typically, such plans have a lifetime orthodontic maximum, which covers 50% of the cost of treatment up to the given spending limit. A few plans limit their orthodontic coverage to patients under the age of 18 or 19.
Our team will be happy to help you navigate your benefits and file your claims. If your plan does not cover braces, you might consider using your flexible spending account or healthcare savings account to pay for them.
Options for Making Braces Affordable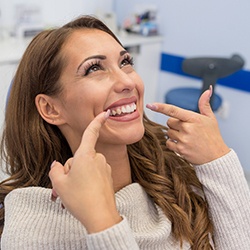 Our practice offers a few provisions that may make it easier for you to afford braces:
We are partnered with both CareCredit and Lending Club. These third-party creditors have a number of low-interest payment plan options for qualified patients.
Quality Dental Plan. Our in-house savings plan provides discounts on virtually all the services available in our practice. It is a great alternative to traditional insurance.
Are you ready to learn more about braces and their cost? Get in touch with us today to schedule your consultation at Heart of Texas Smiles General & Cosmetic Dentistry.
Traditional Braces FAQs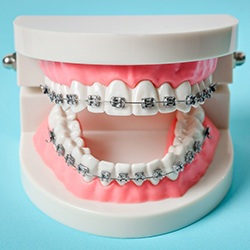 If you are interested in getting braces in Waco, our team is ready to help you get started on your orthodontic journey. In the meantime, however, you may want to gather more information about the road ahead. To help you out, we've put together a list of some frequently asked questions about this treatment. If you would like further explanation on what you discover here, feel free to reach out to us for personal assistance. We will be happy to speak with you!
Can I Get Traditional Braces on Just My Top or Bottom Teeth?
After we thoroughly evaluate your oral health, the positioning of your teeth, and your bite, we will be able to determine whether you need braces on both arches or just one. Most patients benefit from getting braces on both the top and bottom. This is because as braces move the teeth either forward or backward, it can affect bite alignment. Wearing braces on just one arch, without altering the other, could cause issues like an overbite or underbite to worsen.
What Happens After You Get Your Braces Off?
Teeth have a "memory," so to speak. That is to say, once braces are no longer putting pressure on them, they will try to drift back into their former positions. To prevent this from happening, you must wear a retainer. There are a few different types of retainers, including those that are removable and those that are permanently fixed in the mouth. If you have a removable one, you should try to wear it for 20 – 22 hours each day during the months immediately after getting your braces removed. After a while, you might be able to graduate to wearing it only at night.
How Long Do Traditional Braces Take?
The average treatment time with braces is 18 – 36 months. However, each case is unique. Some patients need braces for only 12 months or so, while others may require them for slightly longer than 36 months. There are several factors that can influence the amount of time that braces must be worn:
Severity of the misalignment. Logically, more severe orthodontic issues tend to take more time to correct.
Adults' teeth tend to move more slowly than those of younger people.
Missteps in complying with treatment guidelines — for example, if you do not wear elastics as much as recommended — can result in treatment delays.
Do Traditional Braces Hurt?
Modern braces are more comfortable than those of generations past. However, they still work by applying pressure to the teeth, which can naturally cause some soreness, particularly when you first get braces or when the arch wire gets tightened. Some patients experience minor oral irritation due to braces' metal parts.
You can keep discomfort to a minimum by sipping on cold water, taking over-the-counter pain medications if necessary, and following the dietary guidelines that come with braces. Placing orthodontic wax on any parts of your braces that touch your soft oral tissues may also be helpful.