All-On-4 – Waco, TX
Make Your Smile Radiant and Reliable

If you have a denture and you're learning about dental implants for the first time, it's important to know that replacing teeth through this procedure does not mean replacing each individual tooth with a dental implant. In fact, revolutionary treatments like All-On-4 in Waco provide you with a far more efficient and cost-effective solution to severe tooth loss. To learn more about how the process works or schedule a consultation with one of our dentists, please give us a call!
How Do All-On-4 Implants Work?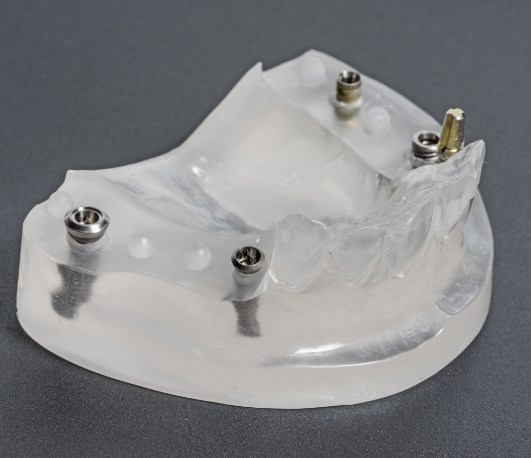 To understand how All-On-4 treatment works, you'll need to know how dental implants work as well. Every dental implant consists of a dedicated post and restoration that sits on top, usually connected by an abutment (or small attachment). These titanium posts are designed to mimic the tooth roots as closely as possible as well as fuse with your existing bone tissue.
When there is not enough bone tissue available for a traditional implant denture, All-On-4 offers an alternative solution. By using just four dental implants placed strategically throughout the jaw, you can hold a dedicated prosthesis and get your smile back!
Am I a Candidate For All-On-4 Implants?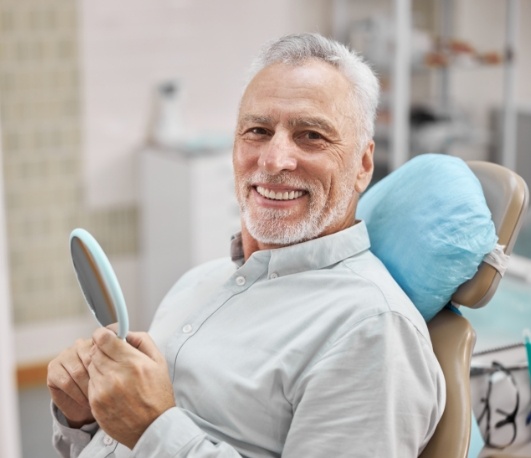 If you suffer from severe tooth loss or you're missing all of your teeth, you're likely a viable candidate for All-On-4 dental implant treatment. If you've been told in the past that you were not eligible for dental implant treatment due to low bone density, you'll find that this procedure involves placing implants at specific angles to maximize all available bone tissue. This treatment is also appropriate for those who would prefer not to undergo bone grafting.
With all that said, you will still need to be able to undergo a minor surgery and have good oral and overall health. Avoiding bad lifestyle habits that can cause implants to fail, such as smoking and poor oral hygiene, is also important.
Benefits of All-On-4 Implants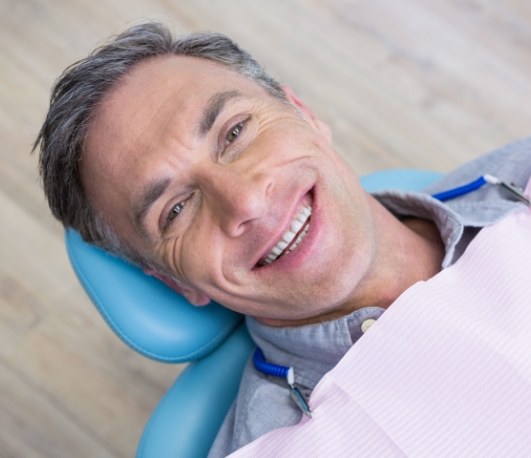 All-On-4 stands out in the world of tooth replacement, even compared to other methods for replacing teeth with dental implants. For example:
There's no need to worry about removing your denture just to keep it clean. Simply brush and floss as normal to keep plaque at bay. This is sure to be an easier process than having to remove your denture entirely.
You'll be able to preserve far more of your jawbone because the implants are regularly stimulating your bone tissue, especially as you chew your favorite foods.
Thanks to the increased biting force dental implants provide, eating tough or crunchy foods feels natural.
No one but you and our office will know you even had dental implants placed thanks to your denture's incredible esthetics!
All-On-4 vs. Traditional Implants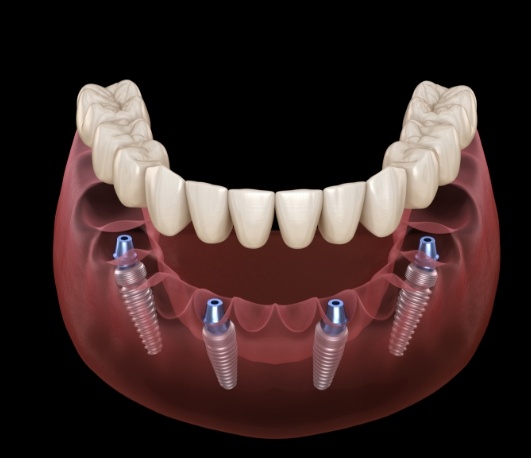 All-On-4 and implant dentures tend to be used interchangeably, but they are actually quite different. For example:
Because the dental implants are placed the same day as the restoration that attaches to them, you're able to receive your new smile immediately after your surgery is complete.
In some cases, implant dentures can require as many as 8 implant posts to hold a prosthesis. That also means longer surgery and higher costs overall. All-On-4 is a very cost-effective solution for severe tooth loss.
All-On-4 is far less likely to require any type of bone grafting, which can add months and more costs to your treatment.