CEREC One-Visit Dental Crowns - Waco, TX
The Speed You Want &
The Quality You Deserve
At Heart of Texas Smiles in Waco, TX, our team places a high value on patient comfort and convenience. We understand your busy schedule doesn't always allow for multiple visits to our office, and that is why we have invested in the technology that allows us to complete our treatments as efficiently as possible. CEREC technology is just one of the ways we provide patients with superior restorative dental care in Waco and surrounding areas -- keep reading to learn more about how it works. patients superior restorative dental care in Waco and surrounding areas.
Why Choose Heart of Texas Smiles for CEREC Crowns?
Get a 100% custom-made crown in just one appointment
No messy dental impression needed!
Strong & durable just like lab-made dental crowns
What Are CEREC Same-Day Crowns?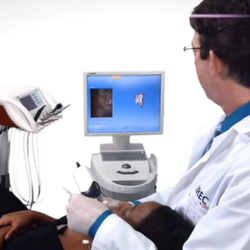 Previously, a patient in need of a dental crown was required to schedule multiple appointments at the dental office. Messy impressions were taken using putty material that often resulted in patient discomfort, and the final restoration couldn't be placed until this data had been sent to a separate laboratory location. In the meantime, the patient had to cope with a temporary crown taking extra care to avoid certain foods
CEREC (Chairside Economical Restoration of Esthetic Ceramic) is a method by which our doctors are able to prepare a patient's tooth, create custom restorations, and place it all in a single visit. There is no need for foul-tasting impression putty or gagging while you wait for the mold to harden. Instead, we take a digital impression of your dentition and this information is sent directly to the CEREC 3D software. The digital images of teeth are converted into data that is used to mill your custom restoration.
When the CEREC milling unit has completed the process of creating your new crown, we perform the placement phase of treatment. Our doctors verify that your new, metal-free restoration fits perfectly adjusting for proper placement and comfort as needed before bonding it to your prepared tooth. Due to the nature of the CEREC process, we are able to conserve more of your natural tooth structure, thereby adding strength and beauty. You'll love how natural your restoration looks and feels, and your pocketbook benefits, too. Because only one visit is required, you save both time and money as compared to the traditional method of crown fabrication and placement.
CEREC vs. Regular Crowns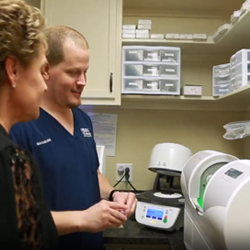 As you may be able to tell, CEREC offers a number of advantages compared to regular crowns. Some of the most significant include:
Having the procedure completed in a single appointment saves you time -- not to mention valuable vacation days with your work.
You won't have to wear a temporary crown since you leave the office with a fully-functioning, permanent restoration on the same day.
Digital scans used with CEREC are more comfortable and accurate than bite-down impressions.
A porcelain crown is highly customizable to match perfectly with the surrounding teeth.
Because the crown is milled in-house, all information related to your treatment plan is kept under the one roof.
CEREC crowns can last as long as those prepared the conventional way.
What's the Cost of CEREC Crowns?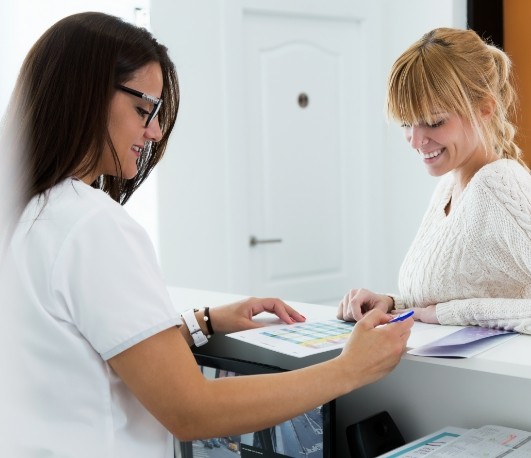 The total cost of the CEREC procedure depends on a few factors, including which tooth is being restored, how severe the injury or decay is, and other factors like whether or not you require special sedation or anesthesia. Due to the accelerated method and high-quality materials used with CEREC, the procedure will cost a few hundred dollars more than what you would pay for a conventional crown. Fortunately, dental insurance will usually cover a portion of your dental crown treatment. The only way to find out precisely how much your one-visit crown will cost -- and how to make paying for it more convenient -- is to schedule an appointment with our office.
Schedule Your CEREC Consultation Today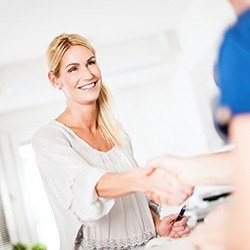 If you'd like to learn more about the substantial benefits of CEREC technology, we invite you to contact our office in Waco, TX today. Our doctors and friendly, caring team are excited to share with you the numerous advantages afforded by this revolutionary technology. We also serve patients from West, Robinson, and beyond.