Porcelain Veneers - Waco, TX
Quickly Transform Your Smile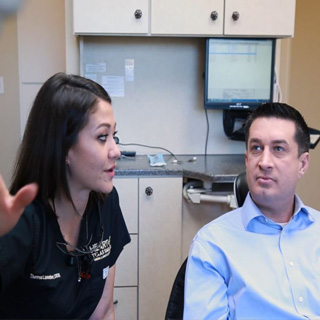 Waco TX Porcelain veneers are an excellent alternative to dental crowns to fix chipped, cracked, or discolored teeth. They provide a more conservative approach to changing your tooth's color, size, and shape. Veneers mask many undesirable defects at once, such as severely discolored teeth, teeth damaged from dental injuries, or worn down teeth. Porcelain veneers are also ideal for masking discolored fillings in front teeth. Additionally, patients with gaps between front teeth could consider porcelain veneers as an alternative to lengthy orthodontics treatment. For your personalized porcelain veneers consultation, make an appointment with one of our dentists, and their experienced cosmetic dentistry team today. Heart of Texas Smiles proudly serves families daily throughout Waco, TX and the surrounding communities.
Why Choose Heart of Texas Smiles for Porcelain Veneers?
Can improve as little as one tooth or an entire smile
Always custom-made for each patient
Able to eliminate multiple flaws in just two appointments
What Can Porcelain Veneers Fix?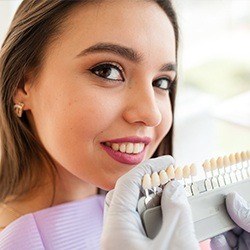 Waco, TX Porcelain veneers are incredibly versatile cosmetic solutions, which correct several dental problems at once including:
Chips
Cracks
Severe Staining and Discoloration
Misshapen Teeth
Undersized Teeth
Misaligned Teeth
How Do Porcelain Veneers Work?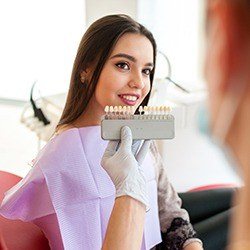 Waco, TX Porcelain veneers are generally completed in one or two appointments.
To prepare teeth for veneers, our dentists will lightly buffs them to allow for the small added thickness of the veneer. Usually, about half a millimeter of the tooth is removed, which may require local anesthetic.
After your tooth is prepared, the dentists take impressions, which are sent to the dental laboratory for fabrication. A temporary veneer can be placed in the intervening time.
When veneers are ready for placement, Dr. Cobb or Dr. Lassetter carefully places each veneer and checks for proper fit, shade, and color. While the veneers are resting on your teeth, the color of the veneers can still be adjusted with the shade of the cement to be used.
To apply the veneer, cement is sandwiched between the veneer and tooth, and a curing light hardens the cement in place permanently bonding the veneer to your tooth.
Porcelain Veneers Appointments in Waco, TX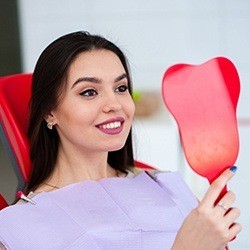 Many studies reveal the importance of a confident smile in both personal and professional settings. Although cosmetic dental imperfections steal confidence, new Waco, TX porcelain veneers greatly enhance the appearance of teeth and heighten self-esteem. You'll no longer hide your smile from the world. To get started, make your porcelain veneers consultation appointment with Heart of Texas Smiles today. Dr. Cobb and Dr. Lassetter are trusted general and cosmetic dentists, proudly serving patients daily throughout Waco, TX, and nearby communities.