Porcelain Veneers - Waco, TX
Quickly Transform Your Smile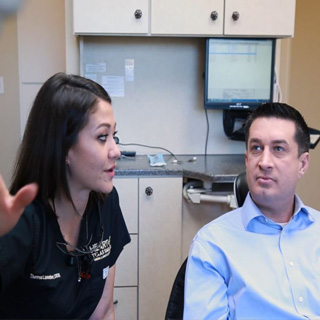 Waco TX Porcelain veneers are an excellent alternative to dental crowns to fix chipped, cracked, or discolored teeth. They provide a more conservative approach to changing your tooth's color, size, and shape. Veneers mask many undesirable defects at once, such as severely discolored teeth, teeth damaged from dental injuries, or worn down teeth. Porcelain veneers are also ideal for masking discolored fillings in front teeth. Additionally, patients with gaps between front teeth could consider porcelain veneers as an alternative to lengthy orthodontics treatment. For your personalized porcelain veneers consultation, make an appointment with one of our dentists, and their experienced cosmetic dentistry team today. Heart of Texas Smiles proudly serves families daily throughout Waco, TX and the surrounding communities.
Why Choose Heart of Texas Smiles for Porcelain Veneers?
Can improve as little as one tooth or an entire smile
Always custom-made for each patient
Able to eliminate multiple flaws in just two appointments
What Can Porcelain Veneers Fix?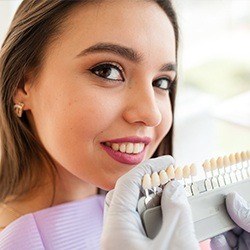 Waco, TX Porcelain veneers are incredibly versatile cosmetic solutions, which correct several dental problems at once including:
Chips
Cracks
Severe Staining and Discoloration
Misshapen Teeth
Undersized Teeth
Misaligned Teeth
How Do Porcelain Veneers Work?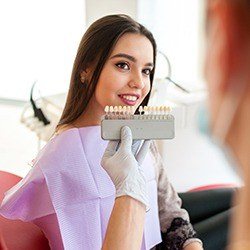 Waco, TX Porcelain veneers are generally completed in one or two appointments.
To prepare teeth for veneers, our dentists will lightly buffs them to allow for the small added thickness of the veneer. Usually, about half a millimeter of the tooth is removed, which may require local anesthetic.
After your tooth is prepared, the dentists take impressions, which are sent to the dental laboratory for fabrication. A temporary veneer can be placed in the intervening time.
When veneers are ready for placement, Dr. Lassetter or Dr. Rivacoba carefully places each veneer and checks for proper fit, shade, and color. While the veneers are resting on your teeth, the color of the veneers can still be adjusted with the shade of the cement to be used.
To apply the veneer, cement is sandwiched between the veneer and tooth, and a curing light hardens the cement in place permanently bonding the veneer to your tooth.
Understanding the Cost of Veneers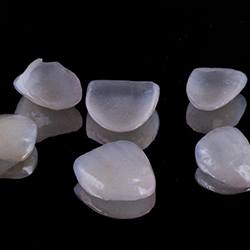 When figuring out the right cosmetic treatment for your smile, one factor that you should definitely consider is price. How much will veneers cost? And how can you fit them into your budget? Our team will work with you to answer these questions so that you can get the smile of your dreams at a price that's right for you. Below are some of the factors that need to be considered when getting veneers.
Cost VS Cosmetic Dentistry: What's Right for Your Smile?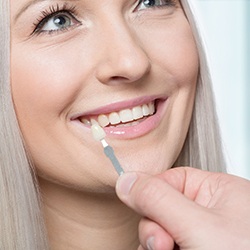 Before you commit to veneers or another type of cosmetic treatment, it's important to make sure that you've considered all of the available options and compared the costs involved. Below are a few cosmetic treatments you might consider:
Braces: If you have crooked or misaligned teeth, braces are likely the first solution you'll think of. The treatment is highly effective, but it can also take two or more years to complete, and in many cases, it can cost several thousands of dollars. Furthermore, braces can only improve the position of your teeth; they can't address problems with shape or color.
Teeth Whitening: Teeth whitening is a reliable solution for brightening your smile and getting rid of stains on your enamel. It's one of the cheapest cosmetic treatments available, but like braces, it can only be used to address a specific type of aesthetic issue.
Veneers: Veneers are more expensive than teeth whitening, but they're also more versatile; they can be used to address stains, small gaps, chips, and other imperfections all at once. Furthermore, if you give them the right kind of maintenance, they can last a decade or longer.
How to Make Veneers Affordable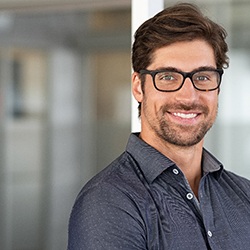 Veneers are a type of cosmetic dentistry, so they aren't covered under most dental insurance plans. Sometimes there might be exceptions, such as if they're considered "medically necessary", so it won't hurt to double-check your plan to see if any coverage is available. That said, you should normally plan on finding another way to fit veneers into your budget.
At our practice, we offer flexible payment options for our patients. When it comes to veneers, we often recommend using third-party financing to make managing the cost easier. Our practice works with CareCredit and LendingClub, two financing companies that are trusted by dental offices across the country.
Both CareCredit and LendingClub offer a variety of plans that let you pay the cost of your care in monthly installments instead of all at once. Many of these plans have little to no interest, allowing you to find one that suits your situation. If you'd like more information about how financing works at our practice and how you can apply, go ahead and call us today; one of our team members will gladly assist you.
Porcelain Veneers Appointments in Waco, TX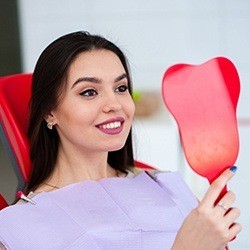 Many studies reveal the importance of a confident smile in both personal and professional settings. Although cosmetic dental imperfections steal confidence, new Waco, TX porcelain veneers greatly enhance the appearance of teeth and heighten self-esteem. You'll no longer hide your smile from the world. To get started, make your porcelain veneers consultation appointment with Heart of Texas Smiles today. Dr. Lassetter and Dr. Rivacoba are trusted general and cosmetic dentists, proudly serving patients daily throughout Waco, TX, and nearby communities.
Veneers FAQs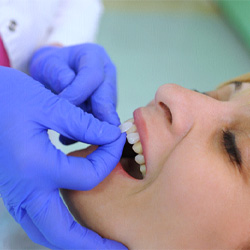 Veneers give you a way to dramatically improve your grin in just two appointments. If you're interested in using veneers to enhance the appearance of your teeth, call Heart of Texas Smiles today to schedule a consultation. We can answer any questions you might have and help you decide whether veneers are your best cosmetic option. For patients who want to do a little research before reaching out to our office, we've provided the following FAQs that address several topics that we've been asked about in the past.
Are Veneers Permanent?
The veneers themselves are very durable, but they won't last forever; you can expect to have to replace them roughly every 10 or 15 years. That being said, getting veneers is considered an irreversible process because small amounts of enamel are removed from the teeth. Since enamel doesn't contain any living cells, it can't grow back. This means that the prepared tooth will always need to be covered with a crown or veneer from that point forward. Keep this in mind when considering your options for cosmetic dentistry.
Do Veneers Give You a Lisp?
Some people do initially have a slight lisp when they first get veneers, particularly when they say words containing "s" and "v" sounds. It's because veneers slightly change the thickness of your teeth; the tongue isn't used to the presence of veneers, which affects the way it moves when you try to make certain sounds.
Fortunately, you can usually expect the lisp to fade away on its own once your tongue has had a chance to adjust. If you would like to speed up the process, you can practice pronouncing certain sounds over and over again; reading aloud can also help.
Can Veneers Be Whitened?
Professional whitening does not have any effect on veneers. As such, if your veneers have been stained or discolored in some way, you'll need to either have them replaced or re-shaded. That being said, whitening will still work on the teeth around the veneers. If you're not careful, you could end up with veneers that stand out from the rest of your smile. For this reason, when one of our patients wants to have both whitening and veneers done, we recommend starting with whitening. That way, the veneers can be color matched to the teeth after they've been brightened.
Is There Anyone Who Shouldn't Get Veneers?
If the tooth you want to improve has a cavity, you probably shouldn't get a veneer. Covering up the problem will only make it more difficult to treat. It's also not a good idea to have veneers placed if you're suffering from gum disease. Bleeding and swollen gums can interfere with the process of taking impressions, resulting in veneers that don't fit properly. Finally, if you grind your teeth at night, you should address the problem before getting veneers. Constant grinding and clenching can wear down veneers and may even cause them to fracture at some point.