TMJ Therapy – Waco, TX
Stop Chronic Jaw Pain & Headaches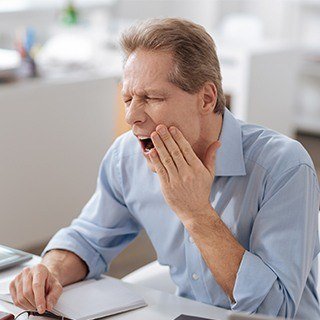 Do you have TMJ disorder? It's estimated that over 10 million Americans may have some form of temporomandibular joint (TMJ) disorder. TMJ disorder is most commonly found among women between the ages of 20 and 40. For most patients, the disorder only causes a mild and cyclical pain or discomfort. However, for other patients, severe and long-term symptoms occur. If you fall into the latter category, you can schedule an immediate appointment with Dr. Lassetter or Dr. Rivacoba at Heart of Texas Smiles for a noninvasive TMJ disorder solution today.
Why Choose Heart of Texas Smiles for TMJ Therapy?
Treatments custom-designed for every patient
Able to provide long-term pain relief & improve function
Specially trained & highly-experienced team
What is TMJ Disorder?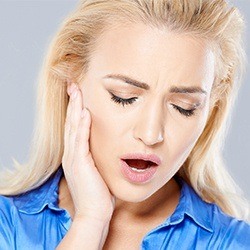 TMJ dysfunction is a group of disorders that causes pain in the jaw joints and supporting muscles. TMJ disorder is commonly categorized as:
Myofascial Pain: Pain or discomfort in the muscles that control jaw function.
Internal Derangement: A displaced disc, dislocated jaw, or injury to the condyle.
Arthritis: a degenerative joint disorder that affects the temporomandibular joint.
The exact progression of TMJ disorder is unknown, however, it can often be a stress induced disorder. It is not clear why symptoms worsen or ease over time in different patients. Though most patients experience mild forms of the disorder, for some, the condition causes long-term pain.
Common TMJ Disorder Symptoms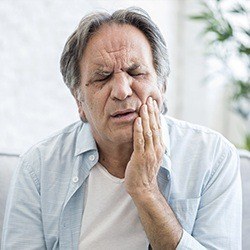 If you are experiencing any of the following symptoms, you should make an immediate TMJ disorder evaluation appointment:
Pain or tenderness in the jaw
Facial pain or earaches
Difficulty chewing properly
Locking of the jaw
We Offer Effective TMJ Disorder Therapy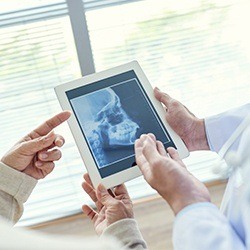 Heart of Texas Smiles offers TMJ disorder therapy using custom fabricated oral appliance treatment. An oral appliance, or bite guard, fits easily over the upper or lower teeth as you sleep. Oral appliances relieve TMJ disorder symptoms by repositioning the jaw to ease pressure on the TMJ and surrounding muscles. By releasing built up bite tensions, your TMJ is allowed to relax and pain and discomfort subsides.
Waco TMJ Therapy Appointments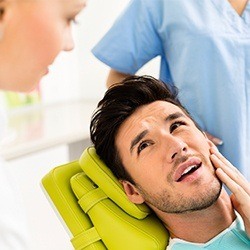 If you or someone you love are suffering from the pain and discomfort of a chronic TMJ disorder, make an appointment with Heart of Texas Smiles today. Dr. Lassetter and Dr. Rivacoba are experienced Waco TMJ therapy providers. Heart of Texas Smiles delivers quality care daily throughout Waco, TX, Hillsboro, Hewitt, and the surrounding communities.