Waco's 3D Cone Beam Technology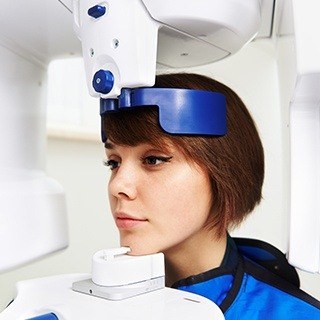 At Heart of Texas Smiles in Waco, Dr. Lassetter and Dr. Rivacoba, along with their team, are always doing research on ways to better serve you, our valued patients. One of the primary tools we look for is new dental technology, because the field of dentistry is constantly advancing with new and cutting edge machines and materials. One of those new machines is the 3D cone beam imaging system.
3D cone beam imaging is dental technology at its finest. With this system, we can better visualize your entire facial structure in order to create a more precise treatment plan. This is a diagnostic tool that uses radiation in a way that is similar to two-dimensional imaging. However, with 3D cone beam imaging, your dentist in Waco has a three-dimensional view that our special computer software can manipulate in order to accommodate a wide variety of dental procedures.
For example, if you are having dental implants, the images from our 3D cone beam system allow us to visualize the bone volume of your jaw in order to most accurately position the implant. The system is also extremely helpful in the treatment of temporomandibular joint disorder (TMJ therapy), as well as orthodontic treatment with Invisalign®.
Heart of Texas Smiles is the only general practice in the Waco, Texas, area with the cone beam 3D dental imaging system, which is an awesome diagnostic tool for planned procedures but also those patients who come in with a nagging problem that has never been completely diagnosed and treated. We take pride in utilizing this amazing machine without charging the patient anything beyond a normal x-ray cost.
For more information about 3D cone beam imaging or any of the other dental technology we use, call our office and schedule a dental cleaning with the dentists at Heart of Texas Smiles.