Dental Implants – Waco, TX
The Gold Standard of Tooth Replacement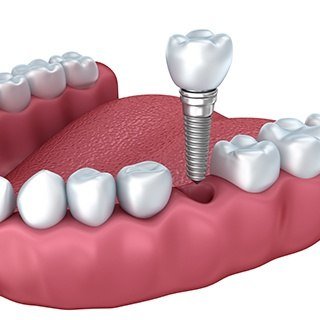 Did you know that more than 35 million people in the U.S. are missing all of their teeth on one or both arches? Also, it is estimated that an additional 30 million people have bad teeth and/or periodontal disease and will face losing teeth in the near future. In the past, the only solution for these patients has been dentures.
Why Choose Heart of Texas Smiles for Dental Implants?
All-inclusive implant care: Placement & restoration under one roof
Restorations custom-designed for each patient
98% success rate & can last for 30 years or more
Problems with Dentures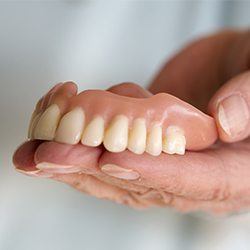 A full denture is a set of artificial teeth that sits on the gums and provides an excellent cosmetic result. There are some definite drawbacks to dentures.
Dentures are not fixed in place and tend to slip, move, and fall out.
Dentures are uncomfortable and sometimes painful. Therefore, eating can be very unpleasant and difficult.
With dentures, you only have about 25% of your natural chewing capacity impacting what you can eat.
Many denture wearers report a lack of confidence in the stability of dentures. They fear their dentures will slip or fall out during normal day to day activities
Upper dentures cover the roof of your mouth with plastic, this impacts the taste of food and can be uncomfortable.
In addition, dentures do not stop the problem of bone loss. Patients continue to loose bone throughout their life leading to ill-fitting dentures over time.
Dental Implants are a Preferred Solution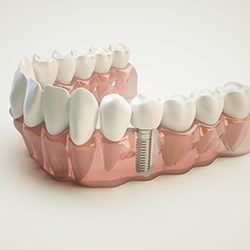 Dental implants have proven to be an ideal solution for those missing all of their teeth on one or both arches:
Dental implants are fixed in place and do not move, and dentures can be attached directly to implants allowing for a much more comfortable experience.
Dental implant-supported teeth give you back 95% of natural biting and chewing capability allowing you to eat whatever you want.
Dental implants look and feel like natural teeth. You can be confident in your day to day activities and do not need to worry about your teeth.
Dental implants stop bone loss. Implants actually allow you to maintain the level of bone you currently have.
Versatile Care with Dental Implants
The type of restoration you need depends on how many teeth you need to replace. The good news is that this service is versatile enough to work with all manner of restorations, from single crowns to bridges and dentures. In each case, your restoration is supported by one or more titanium implants. These implants act like prosthetic roots holding your custom-made restoration in place and ensuring results that look and feel natural.
A Full Arch of Teeth Can Now be Replaced with Four to Six Implants, Without Bone Grafting
The best option for replacing all of your teeth is a fixed hybrid denture, also known as an All-on-4 prosthesis. In this situation between 4 and 6 implants are placed in each arch. The prosthesis is permanently attached to the implants and not removed. This is the closest to your natural teeth that can be achieved.
Implant Overdenture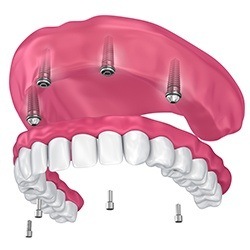 In some situations, a fixed hybrid is not the best solution. In this instance, an implant overdenture is a great option. This provides the benefits of implants, but the denture is still removed by the patient. In this scenario 2 or 4 implants are placed in each arch and the denture snaps onto the implants.
Learn More About Implant Dentures
Benefits of Dental implants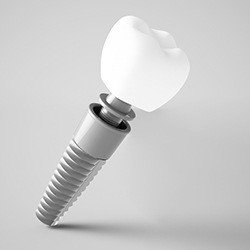 Dental implants in Waco offer a number of benefits for eligible patients who are missing any number of teeth. Some of the most significant advantages of this treatment option include the following:
A comprehensive replacement stabilizes the jaw bone to promote better oral health over a lifetime.
Gum and bone tissue are preserved with dental implants, preventing the loss of additional teeth.
Dental implants look and feel natural -- like the teeth you were born with.
Dental implants can correct prior dental misalignments.
The security provided by dental implants supports a balanced, nutritious diet.
It is easier to speak clearly with dental implants.
When cared for properly, dental implants can last a lifetime.
Many patients are eligible candidates for dental implants.
Indications for Dental Implants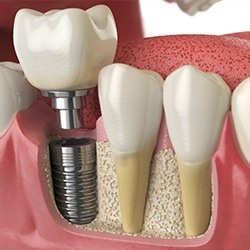 Dental implants can be used to replace any number of missing teeth, anywhere in the jaw. The indications for dental implants are listed below.
Missing Single Tooth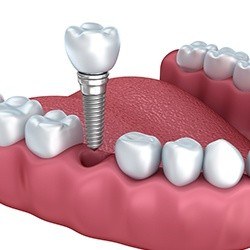 Even if you are missing just one tooth, replacing it with a sturdy implant post is very important. Taking this step will ensure that the bone tissue stays healthy and will also prevent the surrounding teeth from drifting out of place. A single dental crown can be supported on one dental implant post without affecting the teeth next to it, as is necessary with a fixed dental bridge.
Missing Multiple Teeth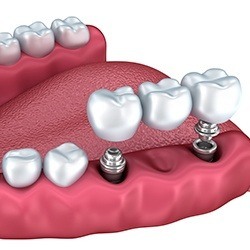 If you have lost several teeth, dental implants can secure a bridge or partial denture to keep the remaining pearly whites in place and also restore your ability to eat, speak, and smile with full confidence.
Total Tooth Loss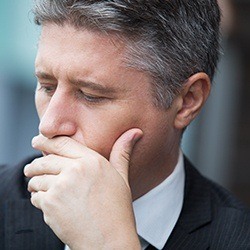 Patients who have lost an entire arch of teeth in the upper or lower jaw can benefit from an implant-retained denture. This option preserves the bone and periodontal tissue while also providing unsurpassed stability for the denture, which may be difficult to achieve using the traditional denture method.
Learn More About Total Tooth Loss
Start-to-Finish Convenience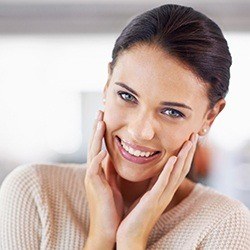 Most dental practices have to send their implant patients to an outside specialist to have them placed, and this tends to only add time, stress, and expense to the process of rebuilding the smile. To save our patients this hassle, they can instead have the entire procedure completed right here at Heart of Texas Smiles. Our team has the specialty training and experience to perform the entire treatment ourselves, creating savings we can pass onto you in the form of both time and money.
Understanding the Cost of Dental Implants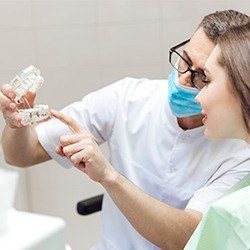 Because they cost more than other options in tooth replacement, dental implants are an investment -- and they are one that could not be more worth it. There is no fixed price for dental implant procedures, so the only way to find out what yours might cost is to schedule an appointment with our office. When you do, we will consider the following factors to determine what you can expect to pay for your dental implants:
The health of your jawbone: Patients who have been missing teeth for a while or who have had gum disease may need to have a bone graft procedure performed before they can receive dental implants. This additional step adds to the cost of the procedure.
How many teeth are missing: Because dental implants are individually priced, this factor may have the biggest influence on how much they cost.
Where the teeth are located: Teeth in the front of the jaw are usually more costly to replace due to cosmetic concerns.
What the dental implants are made of: The majority of dental implants are made of titanium, but patients with metal sensitivities or allergies may require an alternative -- which can be more expensive.