Dental Implants — Waco, TX
The Gold Standard of Tooth Replacement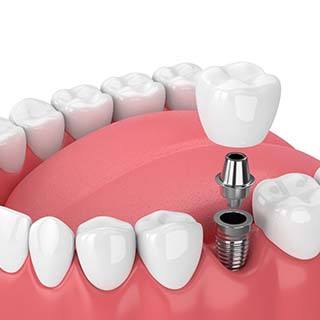 Are you missing one, some, or all your teeth? In the past, your only options for replacing them would be a dental bridge or removable denture. While these options are certainly better than nothing, it's no secret that they leave much to be desired when compared to natural teeth. This is because they only replace the visible portions of teeth, the crowns. Without the root structure underneath to anchor them in place, bridges and dentures can become loose, uncomfortable, and will need to be replaced every several years.
Thankfully, those aren't your only options anymore! If you're looking for the gold standard of tooth replacement, look no further than dental implants in Waco. This state-of-the-art treatment replaces every part of a missing tooth for results that are practically indistinguishable from a natural tooth. To learn more about this potentially life-changing tooth loss solution, don't hesitate to call us today and schedule a consultation!
Why Choose Heart of Texas Smiles For Dental Implants?
Team of Skilled Dentists with Years of Experience
All-Inclusive Implant Care: Placement & Restoration Under 1 Roof
Replace Any Number of Missing Teeth for Life
What Is a Dental Implant?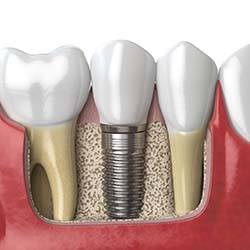 A dental implant is a small titanium post that looks a little bit like a screw. They're designed to be inserted underneath the gumline directly into the jawbone. Since titanium is biocompatible, the dental implant actually fuses with the jawbone. This essentially replaces the roots of a missing tooth and provides a strong and reliable foundation for the replacement tooth.
One or more dental implants can be used to support all manner of custom-made restorations, allowing them to replace any number of missing teeth. Atop the implants are small connector pieces called abutments that are used to secure a crown, bridge, partial, or full denture into place. The end result is a tooth that has been rebuilt to look, feel, and function just like the real thing.
The 4-Step Dental Implant Process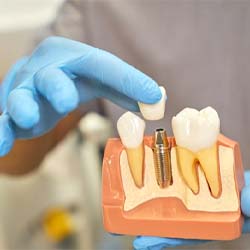 In total, the process of getting dental implants in Waco can take up to a year, but the unmatched stability and longevity of these replacement teeth make them 100% worth the wait! Even better, our team at Heart of Texas Smiles can complete every step of the treatment right here under one roof. This saves you a great deal of time and money compared to most dental practices who need to send their patients to an outside specialist for dental implant surgery.
The details of each patient's dental implant process may vary, of course, but you can typically expect to go through these four basic steps:
Initial Dental Implant Consultation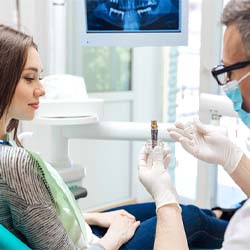 During this first appointment, our dentists will give you a rundown of how dental implants work in Waco and ask you about the goals you have for your future smile. From there, we'll examine your mouth and go over your specific needs, including the number of teeth you need replaced, their locations in your mouth, the density of your jawbone, and the current state of your oral health. In some cases, a patient may require one or preparatory procedures (such as bone grafting, gum disease therapy, or tooth extractions) before they can schedule dental implant surgery. Once we've confirmed that you're eligible, we can start planning out the rest of your treatment.
Dental Implant Surgery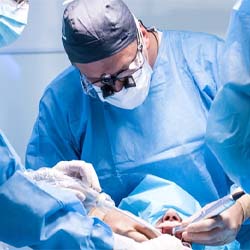 Next comes the surgical placement of your new teeth. We'll begin by numbing the area of the mouth we'll be working on. Depending on your circumstances, we may also administer sedation to make sure you're comfortable during the procedure. Then, we'll make a small incision in your gum tissue and use a surgical guide to perfectly position the implant post into the jawbone. We'll attach a protective cap to the top of the implant to ensure the gum tissue remains in the correct shape throughout the healing process. Lastly, your implant dentist in Waco will stitch you up and send you home to begin recovering.
Dental Implant Osseointegration & Abutment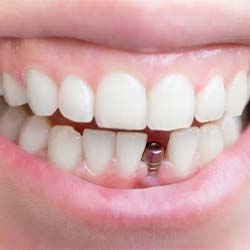 For the next three to six months, the implant post – made of biocompatible titanium – will naturally fuse to the bone and gum tissue surrounding it. This process is called osseointegration, and it's the key to the amazing long-term benefits that dental implants offer. Essentially, osseointegration makes your body think that you'd never lost your natural tooth in the first place, allowing the implant to function as if it you'd been born with it.
When you've fully healed, we can secure an abutment on top of your implant. The abutment is a small metal attachment that will enable us to install your custom-made restoration. Placing the abutment involves another oral surgery, during which we open the gums, connect the abutment to the implant, and close the gums around it. Most patients heal from abutment placement within two or three weeks.
Delivery of Dental Implant Restorations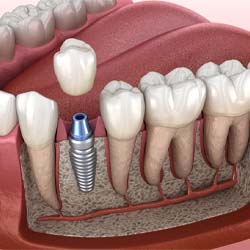 Once your gums have healed around your abutment, we can finally install your permanent restoration. Depending on the number of teeth you need to replace, this may be a dental crown, bridge, or denture. Your prosthetic will be completely personalized to resemble the size, shape, and color of the teeth you lost. In the end, you'll have a replacement tooth that is virtually impossible to differentiate from the real thing!
Benefits of Dental Implants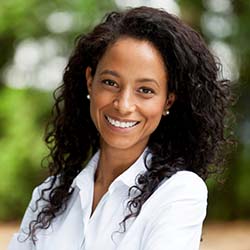 Dental implants in Waco offer a number of benefits for eligible patients who are missing any number of teeth. Some of the most significant advantages of this treatment option include the following:
Dental implants look and feel like natural teeth.
Dental implants are fixed in place and do not move, giving you optimal comfort, convenience, and confidence.
You'll enjoy 80% or more of your natural biting force
Gum and bone tissue are preserved with dental implants, preventing the loss of additional teeth.
Dental implants look and feel natural -- like the teeth you were born with.
Dental implants can correct prior dental misalignments.
The security provided by dental implants supports a balanced, nutritious diet.
It is easier to speak clearly with dental implants.
When cared for properly, dental implants can last a lifetime.
Many patients are eligible candidates for dental implants.
Who Dental Implants Can Help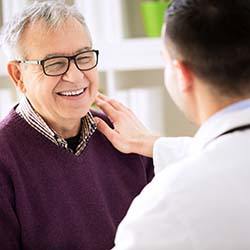 If you are missing one or more teeth, there's a good chance that dental implants can help you achieve the complete, confident smile you deserve. Of course, we'll first need to see you for a consultation to ensure that dental implants are a good choice for your specific situation. In some cases, you may need to complete preliminary treatments like gum disease therapy or bone grafting to become eligible. Then, we can design your treatment plan around how many teeth you're missing.
Who Is a Good Candidate for Dental Implants?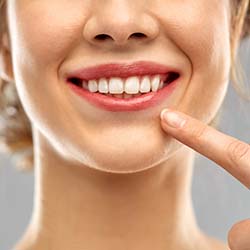 Patients who meet the following criteria are the ideal candidates for dental implant tooth replacement:
Adequate gum tissue and jawbone density
Good oral and overall health
No past issues with surgical care
If you're not a good candidate immediately, we can often help you become one with one or more preparatory procedures. Then, we can plan out and discuss the details of your dental implant treatment, like the type of restoration you'll need as well as how many dental implants. This information will depend on how many teeth you need to replace. The good news is that this service is versatile enough to work with all manner of restorations, from single crowns to bridges and dentures.
Missing 1 Tooth
Even if you are missing just one tooth, replacing it with a sturdy implant post is very important. Taking this step will ensure that the bone tissue stays healthy and will also prevent the surrounding teeth from drifting out of place. A single dental crown can be supported on one dental implant post without affecting the teeth next to it, as is necessary with a fixed dental bridge.
Missing Multiple Teeth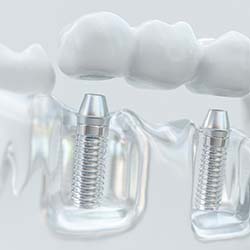 If you have lost several teeth, dental implants can secure a bridge or partial denture to keep the remaining pearly whites in place and also restore your ability to eat, speak, and smile with full confidence.
Missing All Teeth
Patients who have lost an entire arch of teeth in the upper or lower jaw can benefit from an implant denture. This option preserves the bone and periodontal tissue while also providing unsurpassed stability for the denture, which may be difficult to achieve using the traditional denture method.
For patients who have low jawbone density, All-On-4 may be the best choice. This method uses only four strategically placed dental implants throughout the jaw to securely anchor a full denture in place. Oftentimes, a patient will be able to save time by skipping preliminary bone grafting and having a denture placed the same day as their dental implant surgery!
If you're missing all your teeth, we'll help you determine which one is best for you during your consultation.
Learn More About Implant Dentures
Understanding the Cost of Dental Implants
The price of dental implants can vary significantly depending on the situation. That means we'll only be able to give you an estimate once we've examined your mouth and determined what your needs are. Once you have an idea of what the final price will be, our team can help you find a way to pay for your dental implants without putting too much strain on your wallet. Here are some of the key points to keep in mind when it comes to the cost of dental implants.
Preliminary Treatments & Dental Implant Surgery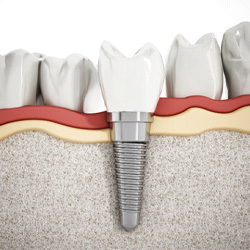 Sometimes you might need bone grafting, tooth extractions, or gum disease therapy before dental implant placement. These preliminary procedures can add to the overall cost of the process, but you can usually expect dental insurance to help pay for them.
Of course, the cost of implant surgery also has to be considered. The location of the surgical site and the type of sedation used will affect the amount you pay. At Heart of Texas Smiles, we place dental implants in-house, so you can avoid the inconvenience of being billed by a separate practice.
The Parts of Your Dental Implant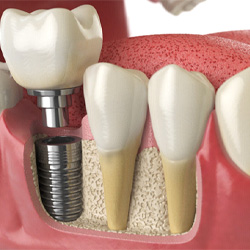 The different parts of your dental implants carry their own costs. As such, the final price can vary depending on:
How many dental implants need to be placed
The kind of restoration(s) that your implants will support
The material used to make your implant posts and final restoration
The brand of implant that your dentist uses
How Dental Implants Can Save You Money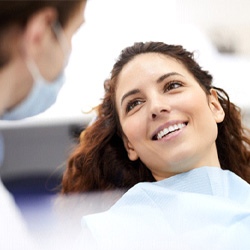 When it comes to the initial cost, dental implants are normally more expensive than dentures and bridges. But in the long term, they can actually save you money because they don't need to be replaced as often. Traditional dentures and bridges typically only last around 10 years, but dental implants can last the rest of your life and only require minimal maintenance. Additionally, since dental implants are easy to clean, they can potentially lower your risk of oral health issues that might require costly care.
Does My Dental Insurance Cover Dental Implants?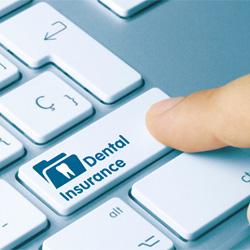 Every dental insurance plan is different; you should talk to your insurance company to see if they offer any coverage related to dental implants. Most of the time, they won't pay for the implants themselves, but they still might cover parts of the final restoration and any preliminary treatments that improve your overall oral health.
Making Dental Implants Affordable
Uninsured patients can sign up for one of our Quality Dental Plans, which includes a 15% discount on dental implant placement and restoration. Also, if you have trouble paying the entire cost of your care all at once, we can help you apply for a CareCredit or LendingClub financing plan that fits your needs.
Dental Implant FAQs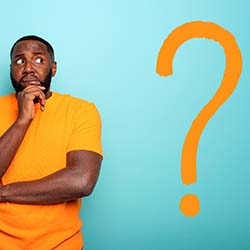 Even though many dental offices are starting to promote dental implants as the gold standard in tooth replacement, patients still don't know much about them. Below, you'll find answers to many of the questions we hear most often from our patients at Heart of Texas Smiles. This is by no means an exhaustive list, so please don't hesitate to give our team a call if you don't see the information you're looking for. The best way to learn more about dental implants in Waco is to schedule a consultation with our caring team. We'll walk you through all of your options and help you choose the solution that best addresses your unique needs.
IS DENTAL IMPLANT SURGERY SAFE?
Absolutely. Our team has years of training and skills to offer safe, effective dental implant treatments. The key to keeping patients safe is taking time to prepare. We make sure to address all areas of concern by reviewing your current oral and overall health, discussing your surgical history, and talking about the possible impact of current medications. If we determine implant surgery is a good fit for you, we'll proceed using the latest techniques and technologies to carefully plan for precise dental implant placement. Finally, our team will walk you through caring for your dental implant site during recovery and schedule regular examinations to ensure your implant procedure is successful.
HOW OFTEN DO DENTAL IMPLANTS FAIL?
As long as we do our work to evaluate your health, place the implant properly, and you follow your at-home care instructions, dental implant placement procedures have a 95% or higher success rate. This makes dental implant placement one of the safest and most successful surgical procedures.
HOW LONG DO DENTAL IMPLANTS LAST?
Dental implant-supported restorations look, feel, and function much more like natural teeth. With proper care, even the most advanced restorations (like full dentures) can last decades. In fact, many patients keep their dental implant-supported restoration for a lifetime.
HOW MUCH DO DENTAL IMPLANTS COST?
It really depends on several factors, such as the material used, size of the implant, style of implant, the technology used to place the post, and even your geographic location. However, on average, a single-tooth dental implant runs about $2000 in our area. Low-end implants can be as cheap as $500, but they have a much higher risk of failure. Extremely complex or innovative dental implant posts can run as much as $5000 apiece. Whatever rate you pay for your first implant post, you'll usually see a decrease in the cost for each additional implant post. We will also work with your insurance provider to maximize coverage for these procedures.
SHOULD I CHOOSE DENTAL IMPLANTS OR REMOVABLE DENTURES?
No dental treatment is right for every patient. However, implant dentures do offer a few benefits compared with removable prosthetics.
Traditional dentures can be uncomfortable and sometimes painful. Implant dentures don't rely on the gums for support, so they won't cause gum irritation or jaw soreness.
Implant dentures are securely rooted in place and should never shift or feel loose. Removable dentures are not fixed in place and tend to slip, move, and fall out.
With traditional dentures, you only have about 25% of your natural chewing capacity impacting what you can eat. Implant dentures can restore 70% or more of your natural chewing ability.
Implant dentures don't need suction to stay in place. Traditional upper dentures cover the roof of your mouth with plastic, which impacts the taste of food and can be uncomfortable.
In addition, traditional removable dentures do not stop the problem of bone loss. Patients continue to lose bone throughout their life leading to ill-fitting dentures over time. Since implant dentures stimulate blood flow in the jawbone, the jaw stays strong and healthy. This also prevents the sunken, aged look that often accompanies tooth loss.
DOES GETTING DENTAL IMPLANTS HURT?
Similar to other extensive dental procedures, our team will first completely numb your mouth with a local anesthetic before beginning any work. This will ensure that you feel no pain throughout your appointment and that you remain as comfortable as possible. Your jawbone also doesn't have many nerve endings, so any discomfort should be minimal. We may also provide you with sedation dentistry to help you relax before your treatment, especially if you're feeling worried or anxious. While your mouth shouldn't hurt during the procedure, you may experience some soreness for several days afterward. Fortunately, this can easily be alleviated by using an ice pack and taking prescribed or over-the-counter pain relievers as instructed. If any pain worsens or doesn't improve after two or three days, call our team for help.
HOW SUCCESSFUL ARE DENTAL IMPLANTS?
As long as your dental implants are placed by a skilled and experienced dental professional, you should expect them to have a success rate of 95% or more. This can even ring true 10 years after their placement. The success of your metal posts will depend on various factors, including how well you care for them with oral hygiene, scheduling routine dental checkups, and following a healthy diet. The kinds of materials your implants are constructed of will also impact their long-term success, and our team only works with the highest-quality products. Even the location of where your implant is placed in the mouth will determine how successful it is, as molars are more likely to fail due to the excessive strain from chewing compared to the front teeth.
WHAT CAN CAUSE DENTAL IMPLANTS TO FAIL?
Although this isn't common, dental implants can fail due to one of two things: failed osseointegration and peri-implantitis. For the metal post to work, it has to fuse properly to the jawbone so that it can provide a stable foundation for your new teeth. If a patient has low jawbone density, this can make it less likely to work in the long run. Peri-implantitis, however, is a kind of gum disease that can damage the bone and gums around your implant, and it develops from poor dental hygiene. Other reasons for failure may involve tobacco use, teeth grinding, radiation to the neck and head, certain medications, and serious health conditions (like osteoporosis, diabetes, and cancer). We can provide you with a guideline to help you minimize your risks.
HOW LONG DOES IT TAKE TO RECOVER FROM DENTAL IMPLANT SURGERY?
Normally, patients should be able to go back to their typical activities the day after their surgery. However, you'll want to refrain from excessive exercise or physical tasks for at least the first week, as this can interfere with your healing process. Any bleeding should discontinue after a couple of days of your appointment and three or four days for swelling. During your recovery, be sure to take prescribed or over-the-counter pain medications to alleviate discomfort and apply a cold compress to numb the area. You may expect your implants to take about six months to completely integrate with your jawbone.