Dentures – Waco, TX
A Strong, Lifelike, & Affordable Way to Restore Your Smile

Is your smile suffering because of tooth loss? Missing teeth cause a variety of problems. Your speech may not be as clear, and eating may become more difficult. Your self-esteem might take a hit as well simply because you know people see the gap in your smile. Thankfully, it's possible to have a full, healthy smile again through restorative care. At Heart of Texas Smiles, we offer custom-made partial dentures and full dentures in Waco to help patients like you restore what you've lost.
Why Choose Heart of Texas Smiles for Dentures?
Custom-made dentures for every patient
Designed to fit comfortably & look completely natural
Partial, full, & implant-retained dentures available
Who is a Good Candidate for Dentures?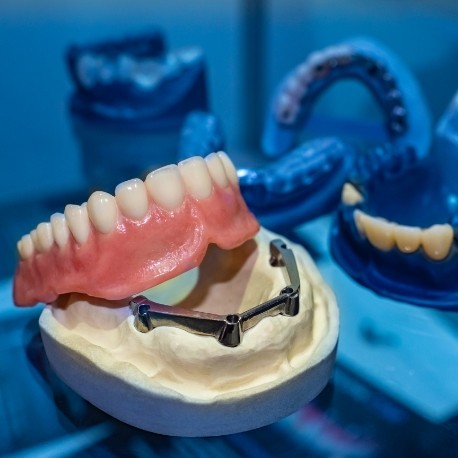 Almost anyone with missing teeth, whether it's several or an entire arch, might be a good candidate for dentures in Waco. Of course, you'll need to have a consultation with our team at Heart of Texas Smiles so we can determine if this tooth-replacement solution is right for you. We'll conduct an oral examination to assess the health of your teeth and gums. If you have any underlying dental concerns (i.e., cavities, decay, gum disease), we'll work the appropriate care into your treatment plan to ensure your smile is in excellent condition before you get dentures.
Types of Dentures
During your consultation, we'll assess your unique dental needs to determine which of the following options works best for you:
Partial Dentures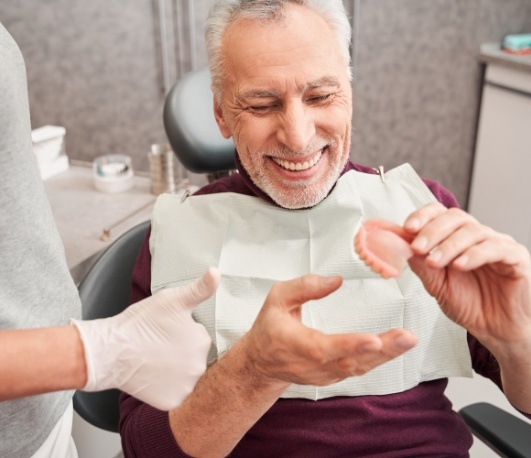 Partial dentures are more simply referred to as partials. They feature multiple teeth that are mounted across a gum-colored base. These replacement teeth may not be consecutively arranged, but rather spread across the base to fit like a puzzle piece between existing teeth. In most cases, partials are secured with clips or brackets and can be taken out for easy cleaning.
Full Dentures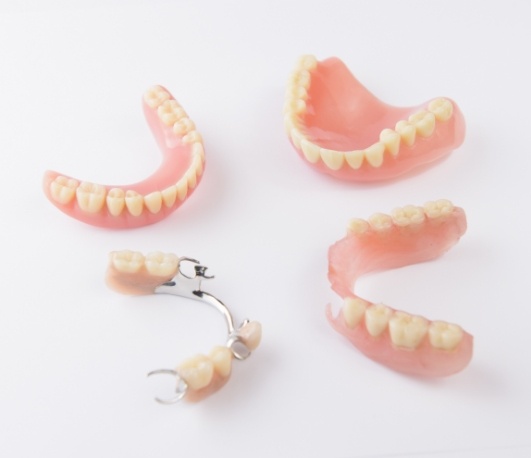 As with a partial, full dentures feature multiple teeth attached to a gum-colored base. But in this case, the restoration is designed to replace all of the teeth along your upper or lower arch instead of just a few teeth. Full dentures can be closed or open palate and are usually held in place by natural suction, muscle strength in your cheeks, and over-the-counter denture adhesive.
Implant Dentures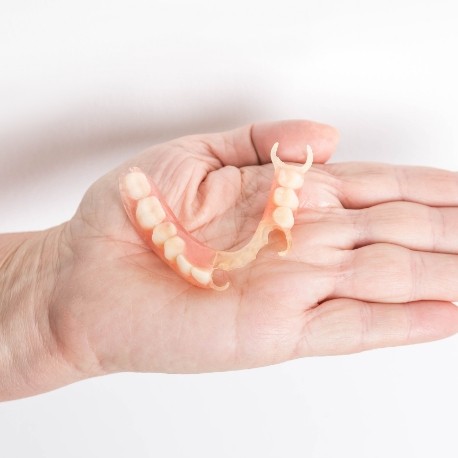 If you'd like to consider a more secure alternative, you can ask about your implant-supported options. Dental implants are titanium posts that are surgically placed at strategic points along the jaw. Depending on the type of implant-supported denture you will have, you will need between two to six dental implants. After surgery, these implants will fuse with your jawbone via a process called osseointegration. It's what will provide the secure foundation of implant-supported dentures and partials. Since they act like prosthetic tooth roots, patients receiving dental implants can look forward to natural-looking results. Moreover, because dentures are secured to the implants, they will not shift or fall out the way removable dentures can.
The Benefits of Dentures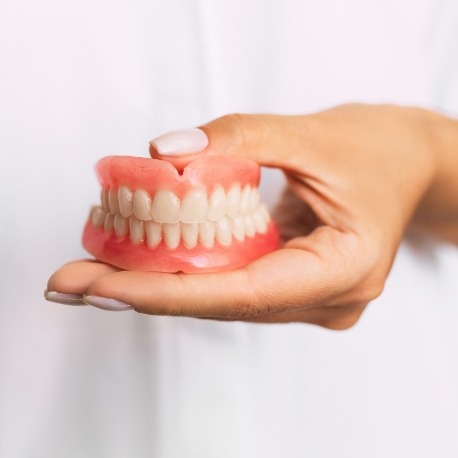 Dentures are one of the most popular solutions for missing teeth – and for good reason. Here are some of the incredible benefits you can enjoy with this method of tooth replacement:
Restored, fully functioning bite
Cost-effective solution that's well worth the investment
Entirely customized for each patient
Long-lasting results (over ten years with proper dental care)
Easy cleaning and lower maintenance
Preservation of a youthful face shape