Partials & Full Dentures – Waco, TX
Strong, Lifelike, & Affordable

Is your smile suffering because of tooth loss? Missing teeth cause a variety of problems. Your speech may not be as clear and eating may become more difficult. Your self-esteem might take a hit as well simply because you know people see the gap in your smile. Thankfully, it's possible to have a full, healthy smile again through restorative care. At Heart of Texas Smiles, we offer custom-made partial dentures and full dentures in Waco to help patients like you restore what you've lost.
Why Choose Heart of Texas Smiles for Partials & Full Dentures?
Custom-made dentures for every patient
Designed to fit comfortably & look completely natural
Partial, full, & implant-retained dentures available
What is a Partial?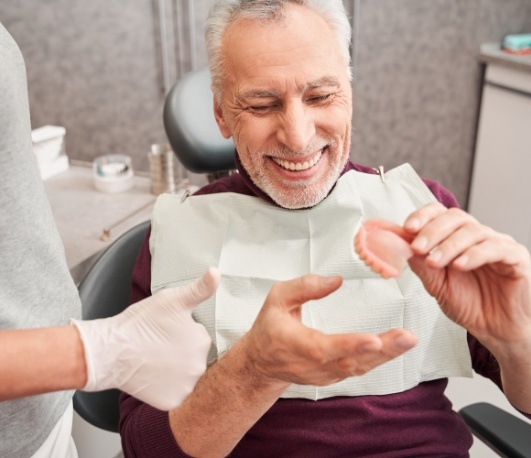 Partial dentures are more simply referred to as partials. They feature multiple teeth that are mounted across a gum-colored base. These replacement teeth may not be consecutively arranged, but rather spread across the base to fit like a puzzle piece between existing teeth. In most cases, partials are secured with clips or brackets and can be taken out for easy cleaning.
What is a Full Denture?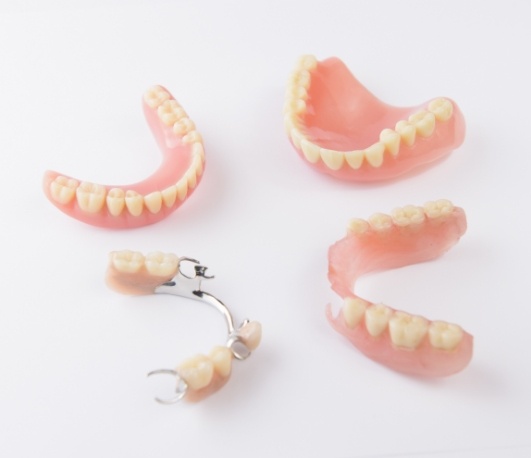 As with a partial, full dentures feature multiple teeth attached to a gum-colored base. But in this case, the restoration is designed to replace all of the teeth along your upper or lower arch instead of just a few teeth. Full dentures can be closed or open palate and are usually held in place by natural suction, muscle strength in your cheeks and over-the-counter denture adhesive.
Implant-Supported Dentures & Partials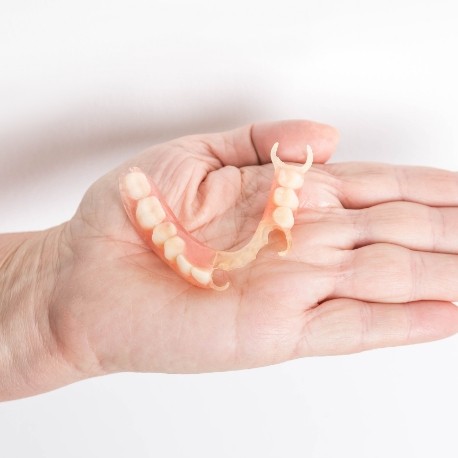 If you'd like to consider a more secure alternative to traditional partial or full dentures, your Waco dentist would be happy to talk to you about implant-supported options. Dental implants are titanium posts that are surgically placed at strategic points along the jaw. Depending on the type of implant-supported denture you will have—All On 4 or an implant overdenture--you will need between two to six dental implants.
After surgery, these implants will fuse with your jawbone. The process is called osseointegration and this is what provides the secure foundation of implant-supported dentures and partials.
Because they act like prosthetic tooth roots, patients receiving dental implants can look forward to enjoying results that look and feel more natural. Moreover, because dentures are secured to the implants, they will not shift or fall out the way removable dentures can.
Caring for Your New Dentures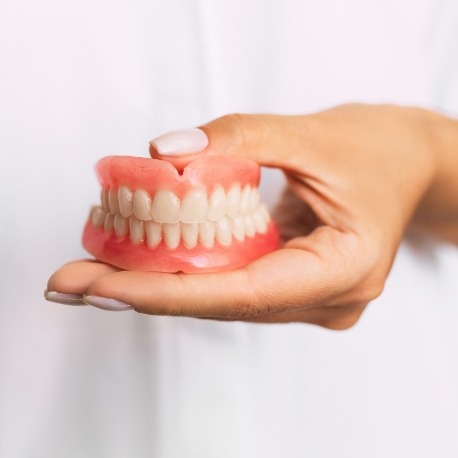 To extend the life of your dentures and maintain your oral health, proper denture hygiene is a necessity. Dentures do resist staining, but they do not resist plaque, which can accumulate on false teeth as easily as natural ones. Therefore, you need to clean your dentures daily. Use a soft brush and a special denture cleaner. Ordinary toothpaste is not recommended because the abrasives that polish teeth can scratch dentures.
When you remove your dentures for the night, be sure to let them soak in water or a denture soaking solution. Air and heat can warp dentures.
Call our office to learn more about denture options or schedule your denture consultation with Dr. Cobb. We're delighted to offer restorative care to patients from Waco, Hillsboro, Hewitt, and all nearby areas.