All-Ceramic Restorations – Waco, TX
Make Dental Problems Disappear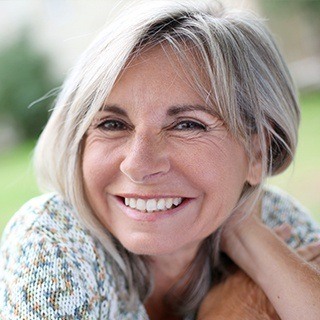 Just because you need to repair a damaged tooth shouldn't mean that you have to compromise the beauty of your smile. At Heart of Texas Smiles, we believe that the health and appearance of your smile are equally important. That's why we rely on all-ceramic restorations. Thanks to advancements in dental materials and technology, we can restore the good health of your tooth, and your smile will look as natural as ever!
Why Choose Heart of Texas Smiles for All-Ceramic Restorations?
Custom-made for each patient
Designed to look natural & last a lifetime
Get a restoration in just one appointment with CEREC
All-Ceramic Crowns in Waco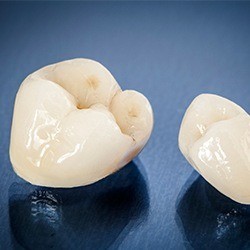 You can probably think of someone you've seen over the years who has a gold or silver crown. These are certainly strong and functional, but don't do much for the natural look of a smile. An all-ceramic crown, on the other hand, offers the same durability and the added advantage of being the same color as your own teeth.
At Heart of Texas Smiles, our dentists frequently use an all-ceramic dental crown to repair a tooth too damaged by decay for a dental filling to suffice. These are also used to prevent cracked teeth from cleaving, stabilize a tooth that has had a root canal, and reshape or rebuild a tooth that is too small or has been damaged by traumatic injury.
To place an all-ceramic dental crown, one of our dentists will carefully remove a small amount of tooth enamel. This must be done so that your new crown fits evenly between adjacent teeth and against opposing teeth when you close your mouth. After prepping your tooth, we'll take an impression that the dental lab will use to create your crown. Because our crowns are all-ceramic, they have the added benefit of reflecting light just the way your natural teeth do.
All-Ceramic Bridges in Waco
In conjunction with dental crowns, we often use dental bridges to replace missing teeth. These are an excellent alternative for people who do not want to have the oral surgery required for dental implants. The bridge consists of at least one false tooth that is seamlessly attached to two crowns on either side. These crowns are cemented over prepared teeth on either side of the gap in your smile. Once in place, the crowns and bridge provide a tooth replacement that is indistinguishable from your other teeth.
To find out more about the advantages of all-ceramic restorations, contact your Waco cosmetic dentist at Heart of Texas Smiles. Dr. Lassetter and Dr. Rivacoba and their team are ready to help you enjoy the benefits of a healthy and natural looking smile.