Dentist – Waco, TX
Trust Your Smile w/ Dr. Theresa Lassetter
Theresa Lassetter, DDS, was born and raised in Plano. She first experienced Waco when she attended Baylor University (Sic 'Em!). She graduated cum laude with a bachelor's degree in Biology in 2011 and had also gained a husband! She met the love of her life, Cody, at the Waco Lowe's garden center, where she held a part-time position between taking classes to help put herself through school.
Becoming a Dentist & Mother
Together, she and Cody traveled to Houston where Dr. Lassetter received her formal dental training as a Doctor of Dental Surgery at the University of Texas Health Science Center School of Dentistry. She graduated at the top of her class and as an inducted member of the dental honors fraternity, Omicron Kappa Upsilon, Mu Mu chapter. During those four years, they also welcomed two daughters into their family. Avery and Parker are little princesses, and both Dr. Lassetter and Cody are very blessed to have such a tight-knit support system of family and friends in the Waco area.
Professional Affiliations
Dr. Lassetter is a member of the American Dental Association, Texas Dental Association, and is the current DENPAC representative for the Central Texas Dental Society. She is very proud to call Waco her home and is blessed to be able to treat our citizens.
Life at Home
When not treating patients, Dr. Lassetter enjoys spending time with her little family. Since graduating from dental school, the Lassetter family welcomed their littlest (and final!) member to their family. Preston absolutely adores his two big sisters! Whether they are playing on their trampoline, playing at Hewitt Park, visiting the Downtown Waco Farmers Market, or learning the names of all the My Little Ponies (Cody can name more ponies than Dr. Lassetter can!), the Lassetter family is always having a good time. Dr. Lassetter is also fluent in conversational Mandarin and has been known to out-fish her whole fisherman family when camping out at Lake Waco.
Featured in Wacoan Magazine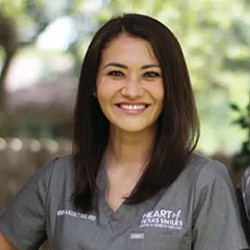 Dr. Nick Cobb and Dr. Theresa Lassetter believe that every patient deserves to experience the innumerable advantages of a healthy and beautiful smile. Advanced technology, countless hours of continuing education and experience allow them to offer an extensive array of dental care and services including everything from regular cleanings to Invisalign, braces, dental implants, fixed implant dentures, sedation dentistry, same-day dentistry and more. Read More