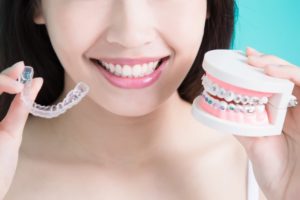 You spent two whole years wearing braces when you were younger. After you finally got them taken off, you were ecstatic to show off your newly straightened pearly whites. However, you've noticed recently that your teeth have shifted since then, and now they're back to being crooked. You don't want to wear a mouthful of metal again to fix them. Thanks to Invisalign, though, you may not have to. Is it possible to wear Invisalign after braces? Find out by reading more below.
How Invisalign Works
Instead of metal brackets and wires, Invisalign uses a series of custom-made clear plastic aligners to move your teeth into their desired positions. Each pair of aligners is worn for about two weeks before switching to the next. For best results, the trays should be worn for at least 22 hours a day.
Benefits of Invisalign vs. Traditional Braces
Here are some of the reasons why patients are increasingly choosing Invisalign rather than braces:
Subtlety – The most obvious benefit of Invisalign is right there in the name; once the aligners are placed over your teeth, they become practically invisible. Metal braces shine a spotlight on your orthodontic treatment, but with Invisalign, no one should even be able to tell.
Easy maintenance – Keeping your smile clean is difficult with braces. You have to purchase special tools to maneuver around the wires and brackets. Because the Invisalign trays are removable, you can simply take them out to brush and floss your teeth as normal.
Zero dietary restrictions – Braces come with a laundry list of foods you shouldn't eat, but Invisalign doesn't. Just remove the aligners, eat whatever you want, and clean your teeth before putting the trays back on your teeth.
Comfort – Metal brackets and wires are notorious for irritating your gums, lips, cheeks, and tongue. Invisalign is made from smooth plastic, causing less soreness and irritation.
Can You Get Invisalign If You've Already Had Braces?
If you're previously worn braces and are wondering whether Invisalign in Waco can help you regain your straight smile, the answer is yes! In fact, wearing Invisalign after braces might even be easier than solely wearing Invisalign. Traditional braces often correct the more severe orthodontic problems, leaving Invisalign to fix minor issues.
Of course, the only way to find out if you're a candidate for Invisalign after braces is to schedule a consultation with your dentist. After looking over your case, they can determine the best way to make your dream smile a reality!
About the Authors
Dr. Nick Cobb earned his dental doctorate at the University of Texas Dental Branch-Houston. Since then, he has been recognized as a delegate of the Texas Dental Association and as an Invisalign Gold II Provider. Dr. Theresa Lassetter achieved her Doctor of Dental Surgery degree at the University of Texas Health Science Center School of Dentistry, and she is an active member of the American Academy of Clear Aligners. Thanks to their combined training, they have helped countless patients straighten their smiles with Invisalign in Waco, TX. To schedule an Invisalign consultation at Heart of Texas Smiles, you can reach them via their website or call their office at (254) 776-3310.