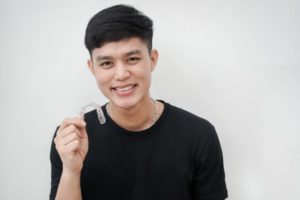 As effective and popular as Invisalign is, there are still several misconceptions about the treatment. For example, some patients assume that because they have a shield around their teeth, they'll be immune to cavities during Invisalign treatment. Unfortunately, that's not how Invisalign works. In reality, you'll need to maintain your oral hygiene to keep your smile decay-free. Continue reading to learn everything you need to know about preventing cavities during Invisalign in Waco.
How Can Cavities Develop During Invisalign Treatment?
Essentially, you'll need to take out the aligners every time you eat or drink anything other than plain water. If you put them back in without cleaning your teeth beforehand, food debris or bacteria can become trapped in the small space between the trays and your teeth. The bacteria will have ample opportunity to damage your tooth enamel. In other words, if you're not diligent about keeping your teeth and aligners clean, your risk of cavities during Invisalign treatment rises dramatically.
Do Cavities Disrupt Invisalign Treatment?
In theory, Invisalign treatment can continue despite tooth decay, but it's not a good idea. Placing a filling in the tooth can actually change its shape. You'd then have to get a whole new set of aligners, which would extend your overall treatment time.
For that reason, most dentists recommend taking care of any cavities you have before beginning Invisalign treatment – and doing your best to avoid decay while you're wearing the aligners.
How to Prevent Cavities During Invisalign Treatment
Even when you're undergoing orthodontic treatment, oral hygiene is still crucial. To keep your pearly whites clean, be sure to do the following:
Brush and floss after every meal or snack before you put your Invisalign trays back in your mouth.
Use a toothbrush (preferably a separate brush than the one you use on your teeth) to gently scrub your aligners clean before placing them back over your teeth.
At least once a day, soak your aligners in an Invisalign cleaning solution to target any lingering bacteria.
Keep up with your routine follow-up visits with your dentist. They will be able to make sure your teeth are in good condition and that your treatment is progressing as planned.
As long as you take the right precautions, you can finish your Invisalign treatment without pesky cavities getting in the way. By the time you're finished, you'll have a dazzling smile that feels as good as it looks!
About the Author
Dr. Nick Cobb focuses on providing exceptional dental care to patients of all ages in the Waco, TX area. He is actively involved in the American Dental Association, is a delegate for the Texas Dental Association, and was once the president of the Central Texas Dental Society. Dr. Cobb is also an Invisalign Gold Provider, as well as the regional leader of a select study club of dentists chosen by the Invisalign company. If you'd like to start your journey to a confident and healthy smile, feel free to call Heart of Texas Smiles at (254)-776-3310. You can also request an appointment through their website.