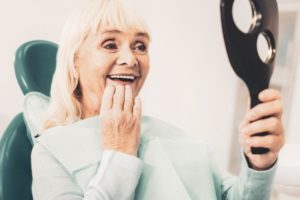 When you first received your dentures, you were probably thrilled to finally have your missing teeth replaced. Over time, you've likely noticed some changes in the way they fit, feel and function. To make matters worse, you may have experienced embarrassing slippage or the appliances completely dislodging. There is the option of receiving implant-retained dentures in Waco, but can they really make a difference. Continue reading to find out!
Implant-Retained Dentures Explained
Traditional dentures offer an above-gum solution for missing teeth. The biggest difference between them and implant-retained dentures is that the latter involve a minor surgical procedure where a dentist will insert four to six titanium implants per arch. The strategically spaced and angled implants allow for a minimally invasive procedure and for a set of dentures to securely snap into position.
Can Dental Implants Really Upgrade Dentures?
Because implant-retained dentures are anchored in place, there's no need to worry about them slipping or falling out your mouth. Here are some of the perks you can look forward to:
No pain – Because implant-retained dentures don't slip, you won't have to worry about developing sores or experiencing uncomfortable gum irritation.
Greater functionality – Traditional dentures typically restore 25% of the original chewing capacity. With implant-retained dentures, you can expect to regain 75% or more of your chewing power.
A natural look – Given that traditional dentures rest above the gum line, they tend to create an unnatural looking smile. Because of the realistic appearance of implant-retained dentures, you'll feel compelled to show your ivories more often.
Less of a hassle to clean – Before retiring for bed, traditional dentures must be removed to soak them and allow the gums time to recover. There's no need for this with implant-retained dentures. You'll simply perform dental hygiene like you normally would with your original teeth.
Are You the Right Candidate?
Now that you've discovered just how much of a difference implant-retained dentures can make, the next step is to determine whether you're a good candidate for the procedure. This can be accomplished by visiting a dentist for a consultation. You'll be thoroughly assessed to determine whether you have enough healthy jawbone to support dental implants in Waco.
If you're lacking in this area, you'll need to undergo a bone grafting procedure to build up the treatment site. The good news is that once your jawbone density is restored, you won't have to worry about it diminishing in the future, as dental implant insertion encourages new bone growth.
If you've been living with the frustrations of wearing traditional dentures, the door to a more functional and attractive smile is now open. By being proactive today, you can secure a healthy and functional smile in the future!
About the Author
Dr. Nick Cobb is a graduate of the University of Texas Dental Branch-Houston. Throughout his career, he has remained dedicated to providing the best care possible by taking several hours of continuing education. Dr. Cobb recharges his patients' lives by placing implant-retained dentures at Heart of Texas Smiles, and he can be reached for more information through his website.