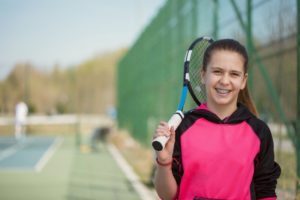 Is playing sports a major part of your life? If so, you might hesitate to commit to getting orthodontic treatment like braces for fear that it might negatively impact your performance. The good news is that no matter what sport you're playing, wearing braces or clear aligners shouldn't limit your ability to play. However, you may need to take some different precautions when it comes to protecting your smile from injury. Continue reading to learn more about the relationship between sports and orthodontic treatment in Waco.
Playing Sports with Traditional Braces
Across the country, millions of kids, teenagers, and adults have been able to stay active by playing contact sports while straightening their teeth with traditional braces. However, you should always take care to protect your smile whenever there is a chance of injury to the mouth. Most dentists suggest that if you have traditional braces, you should wear an orthodontic mouthguard. This small, removable appliance comfortably fits over your teeth to protect them from balls, rackets, elbows, or anything else that could hit you in the face while playing sports. Ask your dentist about getting a custom-made mouthguard.
How Invisalign Treatment Impacts Sports Performance
Many athletes choose Invisalign clear aligners over traditional braces due to their discreet appearance. However, even though the trays completely cover your teeth, they don't provide enough protection against injury while playing contact sports. For that reason, wearing a mouthguard is still necessary when you're going through Invisalign treatment.
Even though you should be wearing your aligners for at least 22 hours a day to stay on track with your treatment, it is often recommended that you remove them before playing contact sports. You can put them back in as soon as the game or practice is over. Doing this not only reduces your risk of injury, but it can help prevent you from accidentally damaging the aligners by biting down too hard on them. So, before the game begins, simply switch out your aligners with a personalized mouthguard. Just be sure to store your trays in their protective case so that they don't get damaged or lost.
Just because you're wearing braces or Invisalign doesn't mean you can't stay active and have fun. All you have to do is take some precautions, like wearing a mouthguard, to keep your smile safe.
About the Author
At Heart of Texas Smiles, Dr. Nick Cobb has made it his life's work to meet the dental needs of the Waco, TX community. He is an active member of the American Dental association, a delegate for the Texas Dental Association, and the past president of the Central Texas Dental Society. In addition to being an Invisalign Gold Provider, he is also the regional leader of a select study club of Invisalign-chosen dentists. To learn more about orthodontics in Waco, visit Dr. Cobb's website or call his office at 254-776-3310.