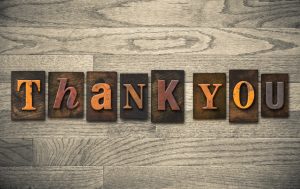 To All of Our Wonderful, Loyal Patients:
It's the time of year again, the time to give thanks for the things we are grateful for all year long. As your Waco, TX dentist, we can think of one big thing we're so thankful to have: you, our fantastic patients!
Thanks to your support, this year was an especially good one for Heart of Texas Smiles. We welcomed many new smiles to our list of patients, as well as our newest passionate doctor, Dr. Julie Foster. Dr. Foster has already proven to be such a fantastic member of Heart of Texas Smiles, and if you've been to the office since she joined this past summer, we're sure you've noticed, too.
Of course, we never forget that none of these exciting steps would be possible for our practice without you, our loyal patients. We want to thank you for choosing the passionate team at Heart of Texas Smiles in Waco to help you on your journey to healthy, beautiful teeth that will last a lifetime.
And because we care so much about the health of your smile, want to take this time to remind you (again!) that the cornerstone for good oral health is preventive care. If you're staying on top of your twice annual visits to Heart of Texas Smiles, that's excellent news — good for you and your whole family. Now combine your regular cleanings and exams with excellent habits at home, too: brushing for two minutes, twice a day, flossing daily and maintaining a healthy, balanced diet. These small steps will go far in ensuring your teeth are healthy now, and for years to come.
All of us at Heart of Texas Smiles — that's Dr. Evans, Dr. Cobb and Dr. Foster, and our whole fantastic team of professionals — are proud Texans who truly care about the dental health of everyone in our Waco, TX community. That's why we're so happy you've chosen us as your dental professionals. We promise that today, and for years to come, we'll do right by you and your smile.
As always, it's an honor to know you, and to serve you.
Sincerely,
The Heart of Texas Smiles Dental Team
P.S. Don't forget to use your 2015 dental insurance benefits before they expire on January 1, 2016 — for the good of your budget, and your oral health! December is our busiest month, so call us to schedule your appointment today.
P.P.S. What are YOU thankful for this holiday season? Let us know in the comments below!