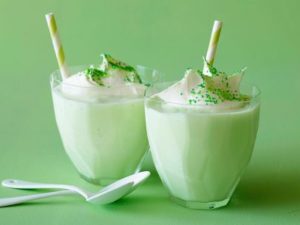 March marks the end of cold weather as gray, cloudy days become less frequent. Besides cleaning out the cabinets and reorganizing your closets, you're probably enjoying a few favorite seasonal foods. When you take a break from spring cleaning, don't reach for sugary treats or it can lead to bad news the next time you visit your dentist. Here's how to protect your smile from popular March foods.
Food-Filled Celebrations in March
St. Patrick's Day isn't the only time to celebrate during the month. There are many exciting happenings in March, including:
March 1st: Peanut Butter Lovers Day
Most peanut butter has a lot of sugar, which can feed cavity-causing bacteria. It can also cling to the roof of your mouth and teeth, giving sugar more time to erode your enamel.
March 5th: Mardi Gras/ Fat Tuesday
Fat Tuesday wouldn't be complete without Paczkis. The sweet, gooey treats aren't just loaded with calories and fat. They also contain sugar and can stick to your teeth.
March 6th: National PI Day
In honor of National PI (3.14) Day, pies are baked to celebrate. Your favorite pie recipe can increase your risk of decay because sugar can be a main ingredient. Pies containing acidic fruits can weaken your enamel, making them more vulnerable to cavity-causing bacteria.
March 17th: St. Patrick's Day
Green foods and drinks are staples of St. Paddy's Day, but they can stain your teeth from the added food coloring.
March 24th: Chocolate Covered Raisin Day
Raisins alone are known to cause decay because they cling to teeth. Covering them in sugary chocolate is a recipe for disaster.
If you love dousing your waffles in syrup, you're also drenching your teeth in sugar.
With so many reasons to savor delicious treats, you can increase your risk of tooth decay, gum disease, and other oral health issues. You don't have to skip the festivities to keep your mouth healthy.
Safeguard Your Smile During March
You don't have to dread your next cleaning and checkup. You can protect your oral health during the month by keeping a few tips in mind:
Improve Your Oral Hygiene: The American Dental Association recommends brushing your teeth twice daily, but strive to brush after every meal, especially if you're doing more snacking. Don't forget to floss daily.
Moderate Sugar Consumption: Limit sugary foods and drinks. If you can't resist a sweet treat, eat it with a meal.
Drink More Water: Water keeps you hydrated, but it also cleanses your mouth in between brushing and flossing.
Avoid Stain-Causing Foods: Avoid dark foods and drinks, including any green milkshakes.
The celebrations of March don't have to come back to haunt your smile. Give your teeth and gums a little extra attention to ensure your smile stays healthy and beautiful.
About Dr. Theresa Lassetter
Dr. Lessetter earned her dental degree at the University of Texas Health Science Center School of Dentistry and has regularly continued her education in advanced services. She is a proud member of many professional organizations, including the American Dental Association. Request an appointment through our website or call (254) 848-0249.