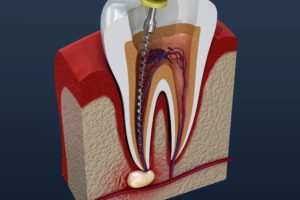 If your dentist has recommended a root canal to save your tooth, your first thought might be to delay the procedure because your life is just too busy. However, waiting until you have more time in your schedule could cost you your tooth. You don't have to worry about a lengthy dental treatment. Here's how long you can expect root canal therapy to take.
When is a Root Canal Necessary?
A root canal is recommended to prevent a tooth from needing to be extracted from decay, infection, or other damage. The inner layer of the tooth is removed, called the pulp. After the damaged tissue has been taken out, the tooth is sterilized and sealed to protect it from bacteria. It's not unusual to require a dental crown after root canal therapy.
How Long Does It Take?
Every mouth and situation differs, but most root canal takes anywhere from 90 minutes to 3 hours. It's not uncommon to need more than one appointment for the procedure and placement of your restoration.
Various factors will affect the duration of your root canal, like which tooth is being treated. Molars can have multiple or curved root chambers, which require more time to clean and disinfect. Root canals on molars and premolars can take 60 to 90 minutes, while those performed on canines and incisors can be completed in 45 to 60 minutes.
What Can I Expect with Root Canal Therapy?
Your dentist will administer a local numbing agent to block any pain signals as the crown of your tooth is opened to gain access to the pulp. Special dental instruments are used to extract the pulp. After a quick X-ray to ensure the tooth is completely cleaned out, it is sterilized and sealed with a special material called gutta-percha.
Depending on your situation, dental bonding may be used to restore the appearance of your tooth. However, it's not uncommon to need a crown. The customized cap covers the entire surface of your tooth above the gum line, creating an added layer of protection. It also restores function and aesthetics.
After your root canal, your dentist will take a digital impression of your tooth to get the information necessary to make your crown. The information is sent to the dental lab, where they'll craft your crown to fit over your tooth like a glove.
It can take the lab a couple of weeks, so your dentist will place a temporary restoration over your tooth to protect it while you wait. Once your crown has been sent back to the office, you'll return to your dentist to have it bonded in place.
In no time at all, you'll be back to your daily responsibilities with a healthy, beautiful smile.
About Dr. Theresa Lassetter
Dr. Lassetter earned her dental degree from the University of Texas Health Science Center School of Dentistry and has regularly pursued continuing education in advanced services, like root canal therapy. Request an appointment through our website or call (254) 848-0240.