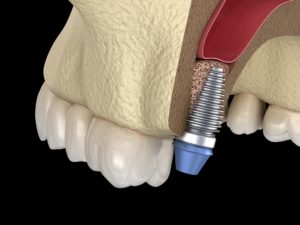 If you're ready to replace your missing teeth with dental implants, your first step is to schedule a consultation. During the appointment, your dentist will perform a thorough visual examination and look at a CT scan of your jawbone to ensure you're a candidate for them. After reviewing all the information, your dentist might recommend a bone graft in Waco before your placement surgery. Don't be alarmed. Bone grafting and dental implants work hand-in-hand to ensure your new smile has the foundation it needs to thrive.
How does a dental implant work?
A dental implant is unlike any other treatment because it recreates the entire tooth from the root up. A titanium implant post is surgically placed into the jaw to act as a new root. Your bone must properly integrate with it through a process called osseointegration for the procedure to be successful because it will need to support an abutment and a post. Therefore, if you've lost density in your jaw, your dentist will recommend bone grafting before your placement surgery for dental implants in Waco.
What is bone grafting?
Bone grafting is a minor surgical procedure used to add thickness to areas of weakened bone. It relies on bone taken from another area of your body or from a donor, which is transplanted to the treatment site. Your bone will fuse with the graft over the next several weeks to enhance the jaw's thickness.
Bone grafting is often needed before dental implants because the jawbone deteriorates when even a single tooth is missing. Not to mention, if any teeth were lost from infection, the bone may also be compromised. As a result, you will need to restore it to its previous strength to support your dental implant.
Do I need bone grafting?
During your initial consultation for dental implants, your dentist will review a CT scan of your oral structures to look for any issues, like bone loss. Depending on the results of the scan, you may need a bone graft. At least 1 mm of bone is required to place a dental implant. If the implant will be inserted next to a tooth, it will need a little more space.
The grafting procedure is often required for patients who have lived with an incomplete smile for many years because the body can reabsorb as much as 25% of bone within the first year of a lost tooth. Bone loss can also be the result of advanced gum disease, which is the leading cause of missing teeth.
If you need bone grafting, don't fret. While it adds another step to your treatment plan, it's time well-spent to secure the long-term success of your smile.
About Dr. Nick Cobb
Dr. Nick Cobb earned his dental degree from the University of Texas Dental Branch-Houston. He regularly continues his training to offer many areas of specialty, like dental implants and conscious sedation. If you have complex oral health needs, like tooth loss, contact our office today to schedule your consultation for dental implants.