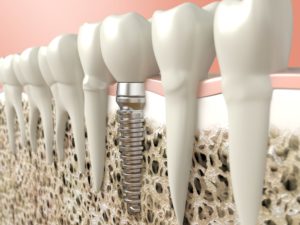 Despite the latest dental advancements, tooth loss is still a common problem. At least 35 million Americans are missing all their teeth in one or both arches. Traditional dentures are one of the most popular and cost-effective solutions to treat complete tooth loss, but are they the best choice for jawbone preservation? You have another option that offers one specific benefit that's not possible with conventional dentures. Dental implants are the only treatment to stop bone loss. Here's why they are the ideal long-term investment for your smile.
Dentures VS Dental Implants
Dentures have had a bad reputation for looking and feeling fake, but innovations in dentistry make them more realistic than ever; however, they fall short in one key area. They cannot prevent bone reabsorption associated with tooth loss.
Dentures only recreate the portions of the teeth visible above the gum line. As a result, your jawbone won't receive the stimulation it needs because there still aren't any roots. You can lose as much as 25% of your jawbone's density after just 1 year of missing a tooth.
Dental implants differ from traditional tooth replacement treatments because they replicate the entire tooth structure from the root up. 4-10 titanium implant posts are surgically placed into the jaw to serve as new roots. This encourages bone growth to keep your jaw strong and healthy.
What are the Benefits of Dental Implants?
If you're unsure whether dentures or implants is the right option for you, your dentist will help you decide the best treatment. Although every case differs, many dentists will recommend implant-retained dentures over the traditional method because dental implants provide unmatched benefits, including:
Over a 95% success rate to last for several decades with the right aftercare.
Looks natural so you can smile confidently.
Regain as much as 70% of your natural biting force to enjoy your favorite foods again.
Eliminates any slipping or irritation.
Preserves your jawbone to support your facial tissues.
Easy maintenance and care.
Cost-effective, long-term solution that should never need to be replaced.
Am I a Candidate for an Implant-Retained Denture?
If you've experienced significant tooth loss in one or both arches, you might be a candidate for an implant-retained denture. If you have good oral and general health, you can often benefit from the treatment, but you'll still require a thorough consultation with your dentist. Besides a visual examination, they will also review a CT scan to check the density of your jaw. You may need bone grafting before your placement surgery to ensure the long-term success of your new smile.
If you're ready to enjoy the next best thing to your real teeth, it's time to see if dental implants are the right solution for you.
About Dr. Nick Cobb
Dr. Cobb was an engineer before earning his dental degree from the University of Texas at Branch-Houston. He goes above and beyond to provide his patients with superior services. He has completed advanced training in many areas of specialty, including dental implants. Contact our office today to learn more about your options to treat tooth loss.