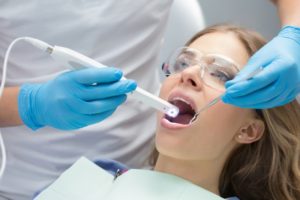 Dental technology has come a long way in recent decades. As independent practitioners, it is up to each dentist to decide which new gadgets they will invest in with the goal of optimizing the quality of care they provide to patients. One type of technology that is particularly valuable to patients are cavity detection devices. They make a worthwhile purchase for any practice because of their potential to spare patients from painful dental emergencies. Let's talk more about why you should opt for a dentist who uses one of these remarkable tools.
What a Normal Exam Can Miss
Dentists are trained to use their eyes and low-tech tools, such as dental probes, to diagnose cavities. They are very good at doing so, but some cavities are difficult if not impossible to spot during this type of exam, especially if the cavities are interproximal (between the teeth). Without a cavity detection device, X-rays may be the only means to identify such spots of decay before they cause serious pain and damage to the teeth.
How Cavity Detection Devices Work
There are various cavity detection devices on the market, and they may employ different methods of identifying decay. The iTero Element 5D uses near-infrared imaging (NIRI) to scan the internal structure of teeth and allow dentists to pinpoint areas of concern. Some advantages of this remarkable technology from iTero include:
Unlike X-rays, it releases no harmful radiation. It is important to note that the iTero Element 5D cannot replace X-rays altogether, but it may make them necessary less often.
It connects to a monitor that allows you to see what the dentist sees. You'll be in a better position to understand your oral health and any treatment recommendations that your dental team makes.
You could avoid a future dental emergency. Identifying and treating cavities while they are still in their earliest stages prevents them from worsening to the point where they penetrate into the innermost layers of teeth. Such severe decay causes significant pain and puts you at risk of developing a dangerous infection.
The iTero Element 5D serves multiple purposes. In addition to using NIRI, the iTero also serves as a regular intraoral camera and a 3D scanner.
Does Your Dentist Use a Cavity Detection Device?
Some dentists' websites contain valuable information about the technology they use to enhance patient care. However, websites are not always comprehensive. To find out if your local dental professional uses one, give their office a call. Don't hesitate to ask any questions you may have about the specific devices they use to aid in diagnosis and treatment.
Cleary, partnering with a dentist who uses a cavity detection device could prove advantageous for your oral health. It could even spare you from a painful dental emergency!
About Our Practice
Drs. Nick Cobb and Theresa Lasseter are dedicated to helping Waco smile! They are passionate about continually improving their skills and investing in technology that enhances the care they provide. The iTero Element 5D is just one of the tools they use to protect patients' oral health. To learn more about them or the technology in our office, contact us at 254-776-3310.