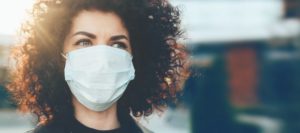 During the COVID-19 pandemic, countless businesses and practices were shuttered in order to slow the spread of germs. After months of strict stay-at-home orders, the country is now slowly beginning to reopen. However, it's important to remember that the threat of COVID-19 hasn't completely passed. Is it safe to go to your dental appointment? Your Waco dentist explains everything you need to know about caring for your oral health during the coronavirus pandemic.
Dental Practices in the COVID-19 Pandemic
When a person sick with COVID-19 coughs, sneezes, or speaks, they disperse infected respiratory droplets into the air and onto nearby surfaces. If these particles come in contact with another person's nose, mouth, or eyes, that person can get sick with COVID-19.
Social distancing is the best way to protect yourself and others from the coronavirus. However, that can be a difficult task in a dental setting. Aside from sharing common areas with other patients, your dentist needs to be close to you to administer dental care. Additionally, many of their tools generate splashes, sprays, or aerosols that can potentially spread germs. Thankfully, your dentist is an expert at keeping you, their practice, and your smile as healthy as possible.
Infection Control in Dentistry
Dental professionals use a wide variety of precautions to overcome the unique difficulties that come with keeping a dental practice germ-free. Infection control has always been a key dental safety protocol in Waco to protect you from sicknesses like the common cold and the flu during your visits. These practices have been set to an even high standard now to safeguard your wellbeing:
Excellent hand hygiene and adequate PPE: To keep themselves and their patients healthy, your dental team thoroughly washes their hands throughout the day and utilizes disposable personal protective equipment.
Advanced equipment and air filtration: New equipment like HEPA air filters and advanced chairside suction minimize aerosol contamination and improve air quality.
CDC-approved instrument sterilization: Any tool that comes near your mouth that cannot be disposed of is completely sterilized with methods outlined by the CDC, including high heat, steam under pressure, and chemical vapors.
Potential Dangers of Putting Off Your Appointment
If you are in need of dental work or your routine checkup, postponing your appointment now can lead to painful and expensive problems later. When considering whether or not to visit your dentist, remember:
Tartar can only be removed by your dentist: That tough yellowish substance on your teeth is brimming with bacteria, and it can only be safely removed by a dental professional.
Teeth can't heal themselves: Leaving damaged or painful teeth will only allow the problem to worsen. They need to be treated right away to prevent the issue from spreading to other teeth.
Prevention is the best medicine: Routine checkups are key for spotting and stopping oral health issues as early as possible, before they can cause any unnecessary damage or discomfort.
Remember, even as the country reopens, social distancing is the best way to protect yourself and your loved ones from COVID-19. However, you can rest assured that your dentist and their team are taking every precaution to keep you safe and healthy when you visit them in these unusual times.
About the Practice
At Heart of Texas Smiles, nothing is more important than the wellbeing of our patients, staff, and the community of Waco, TX. We have been closely monitoring the COVID-19 pandemic and the recommendations of the CDC in order to adjust our infection control protocols accordingly. Alongside our routine ambitious standards of care and sanitation, we have established 23 additional precautions to keep you safe during your visit. If you'd like to learn more about our Commitment to Safety, we can be contacted via our website or at (254) 776-3310.