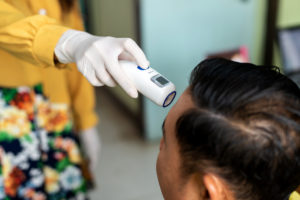 When you step inside your dentist's office, the first question you're asked is usually about how you feel. In the past, this was nothing more than a pleasantry. However, it has taken on a new level of importance during the time of COVID-19, as dental team members are now checking for signs of viral infection prior to providing care to patients. It's just one of the many steps your dentist in Waco has implemented to prevent the spread of the virus throughout your community. Read on to find out more about the procedures your dentist is using to keep you and your family safe.
Patient Pre-Screenings
When you come in for your appointment, you may be asked to complete a short questionnaire to determine if you have any symptoms of COVID-19. This can include a no contact temperature check as well. In addition to the screenings, some practices are providing patients with anti-microbial mouthwashes to use before starting their appointments. This action reduces the number of germs released from your mouth during treatment.
New Staff Requirements
Dental team members are also following new precautions. Staff are taking the same screening tests provided to patients and changing in and out of fresh scrubs at work to reduce cross contamination. They are also adhering to new personal hygiene standards. Team members can no longer have long fingernails and must wear long hair up to make it harder for germs to move between treatment rooms.
Protective Equipment
You've probably heard about N95 masks at some point during the pandemic. Most dental offices will now be using them along with ASTM Level 3 masks. Practices are also adding disposable coats and hats to their arsenals as well.
Germ Fighting Technology
Dentists are adding cutting edge technologies to their offices to help stop the spread of germs. Patients and staff must use new hospital grade hand sanitizing stations prior to entering the treatment areas. Once patients begin receiving care, they'll find dentists using advanced suction tools to prevent germs from escaping from their mouths. Any that do will be caught by the HEPA air filters and air purifiers installed within the office.
Enhanced Cleaning Procedures
In addition to using CDC approved instrument sterilization techniques, dental teams are dedicating more time and energy to keeping their offices clean. Surfaces that patients come in contact with are cleaned after each appointment, and the entire office goes through a deep cleaning process at the end of each day.
These are just some of the new procedures your dentist in Waco is using to protect your from COVID-19.  When you book your next appointment, you can relax knowing that you are being treated in an environment that prioritizes your health and safety.
About the Author
Dr. Nick Cobb is a dentist at Heart of Texas Smiles in Waco, TX. He went to dental school at the University of Texas Dental Branch-Houston. His practice has re-opened for regular patient care and has implemented 23 new procedures to minimize the spread of germs. If you'd like to learn more about these protocols or would like to schedule an appointment, you can reach him at his practice's website or at 254-776-3310.