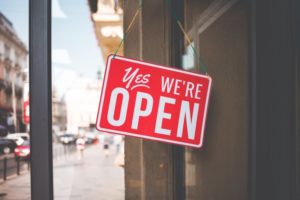 The COVID-19 pandemic has changed many aspects of our lives we previously took for granted. Activities like grocery shopping, connecting with family, and getting dental care all look different than they once did. Your Waco dentist has implemented a variety of extra precautions in their practice to ensure you are as safe as possible while you receive the dental care you need.  Here's what you can expect before, during, and after your first appointment with them when they reopen.
Before Your Appointment
Waco dental safety protocols are being followed to keep you healthy before you even arrive at the office. Each team member has completed additional COVID-19 awareness and prevention programs and had their temperatures checked. Additionally, when you call to make your appointment, you will be asked a few questions about your health. Sequenced scheduling will be used to reduce your exposure to other patients and allow for more space when coming and going. While this may mean you're offered fewer appointment times, it plays a big part in lowering your risk of getting sick.
At Your Appointment
Instead of waiting in the reception area, you will check-in for your appointment from the comfort of your car. When your treatment room is ready, a team member will come outside to meet you. After a quick health questionnaire and no-touch temperature check, they will escort you inside the practice. Right away you'll notice the low hum of HEPA air filters and presence of new clear barriers all around the office. You may also notice the absence of magazines, toys, and a few chairs in the reception area to encourage social distancing and limit frequently touched surfaces.
Before your treatment, you will be asked to disinfect your hands with a hospital-strength hand sanitizer and rinse your mouth with an anti-microbial mouthwash. Your dentist will probably be wearing a few items of personal protective equipment that you haven't seen before, such as a face shield and disposable coat. These measures are used to keep both you and your dental team safe from spreading germs.
After Your Appointment
To help limit your trips outside and prevent the need for multiple trips to the office, you may be able to have all your dental work done in a single expanded appointment instead of over the course of several smaller ones. After you leave your examination room, the dental light, countertops, doorknobs, switches, and sink are all thoroughly cleaned with hospital-strength disinfectants. Any disposable tools and PPE are safely thrown away and reusable dental instruments are fully sterilized with heat and pressure before the next patient arrives. If you begin to develop COVID-19 symptoms like a fever, dry cough, or shortness of breath within 14 days of your appointment, call the office right away to let them know.
COVID-19 has changed the way routine dental visits look, but it hasn't changed your Waco dentist's commitment to your overall health. If you need to visit them for dental treatment after weeks in quarantine, you can feel confident that they're going above and beyond to safeguard your wellbeing while providing the smile care you need.
About the Practice
At Heart of Texas Smiles in Waco, TX, your health and safety have always come first. Typically, Dr. Nick Cobb and Dr. Theresa Lassetter demonstrate this with a combination of personalized treatment plans, state-of-the-art technology, and wide variety of comprehensive dental services. In light of the COVID-19 pandemic however, they continue to put the best interests of their patients first by adding 23 additional steps to their already ambitious infection control procedures. To learn more about what they're doing to keep their patients, staff, and community safe, feel free to contact them via their website or at (254) 776-3310.