August 31, 2017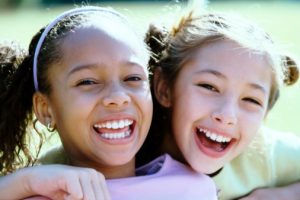 When you're getting ready to send your little ones back to school, we encourage you to take the time to include preventive dentistry as part of their back to school check lists. At Heart of Texas Smiles, our family dentist and team encourage patients to bring kids in for checkups right before the school year begins. This means they won't need to take time out of the classroom to come and see us. Call our caring team to schedule your back to school checkup, and we'll send your little ones back to the classroom with a smile!

Come to See Us!
Dental checkups are an essential part of ongoing oral health and hygiene for patients of any age. Your child's dental checkup in our Waco office is an essential part of their oral health plan, but it's also a lot of fun. We'll assess their smiles, clean their teeth, and walk them through at-home hygiene. If your kids are planning to participate in sports, we can also have them fitted for a custom mouthguard during this appointment. We know you're busy during the back to school season, so we'll be happy to schedule a block of family dentistry appointments on the same day.
Pack the Right Snacks
Send your kids to school with snacks that will keep their teeth healthy. While your children are at school, they will not likely brush between meals, so pack snacks that will be gentle on tooth enamel. Try not to pack high sugar foods, acidic juices or sodas, and no sticky foods.
Make At-Home Hygiene Fun
After a full day of class, kids may be less-than-thrilled about having to do anything that isn't playing or relaxing (depending on the kid), and we don't blame them! We recommend Waco families take some extra steps to make at-home brushing and flossing fun for young kids. Try some of the following fun tricks:
Play music while brushing – makes the task seem more fun and gives you an easy way to time your brushing
Make a hygiene calendar – have your child check off their daily brushing and flossing or mark it with stickers – you can even give them a special treat after they reach a specific number of days
Buy disclosing tablets – these turn your child's teeth a different color (usually something bright and fun like green or pink) wherever there is plaque, so as they brush or floss, they can see exactly what they're trying to remove
Comments Off

on Back to School Oral Health Tips from Your Family Dentist
No Comments
No comments yet.
RSS feed for comments on this post.
Sorry, the comment form is closed at this time.