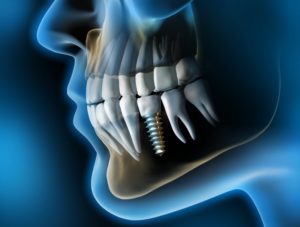 Dental implants in Waco are inarguably the most lifelike tooth replacements. They also have a very high success rate at around 98 percent. One of the keys to that success is a firm bond between the implanted post and your surrounding jawbone. For that to happen there must be sufficient bone density and volume, or hardness and thickness. Fortunately, for patients who lack jaw bone tissue there is a solution.
Bone grafting is a procedure that encourages new tissue growth so you can enjoy all of the advantages that dental implants offer. Yes, bone graft surgery will likely move your treatment completion date further out by a few months. Nevertheless, most patients agree that the wait and the investment are worthwhile.
Why Do I Need Bone Graft Surgery?
Patients lose bone density and volume for several reasons. The most prevalent is tooth loss. When you are missing a tooth, the root is also gone. That root stimulated your jawbone, encouraging blood flow for nutrients and healthy new tissue growth. However, when a tooth is missing, those nutrients are sent to other parts of the body and your jaw may begin to degenerate and shrink.
Another reason is gum disease. In its advanced stages, this bacterial infection destroys otherwise healthy bone and gum tissue. If you have gum disease, then your dentist in Waco will need to treat this before beginning the process of placing dental implants.
Other people simply do not have a jaw with thick enough bone structure to support dental implants. Any of these reasons could make bone grafting in Waco necessary.
How is Bone Graft Surgery Performed?
Bone graft surgery is designed to add more volume to the spot where your jaw cannot securely anchor a dental implant. Healthy bone tissue from another part of the body—the mouth, hip or shin—is transplanted to the weakened area. Replacement bone can also come from a cadaver, a cow or artificial bone.
If you are to have a dental implant placed in the rear upper jaw, then the dentist may perform a special type of bone graft called a sinus lift. During this procedure, the sinus is opened and addition bone tissue is added to support implants.
In some cases, bone graft surgery can be completed on the same day your implanted posts are positioned in your jaw. However, if there has been significant bone loss, then your jaw may need time to heal before the implants can be placed.
If you have questions about bone grafting or dental implants, please call our office to schedule a consultation.
Meet the Doctor
After graduating from the University of Texas Dental Branch-Houston, Dr. Nick Cobb came to Waco to establish his dental practice and his home. He enjoys providing patients with state-of-the-art dentistry so they have both healthy and beautiful smiles. Call to schedule an appointment with Dr. Cobb or his colleague Dr. Lassetter.