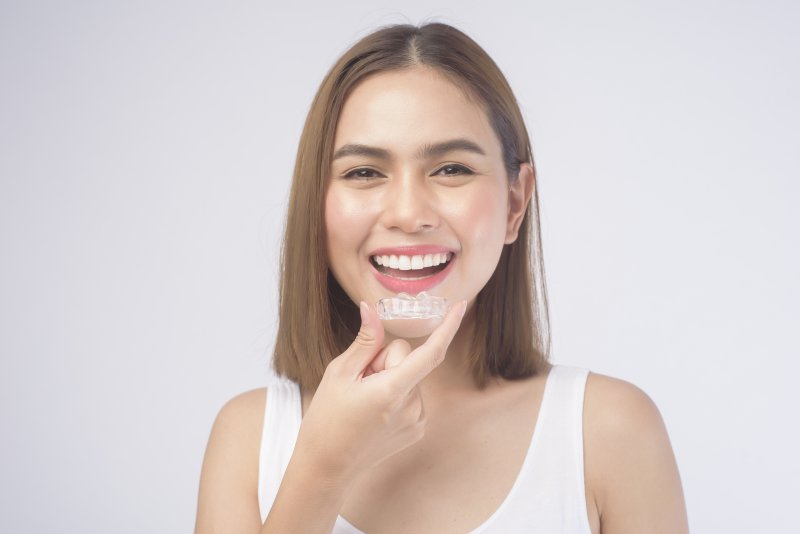 Invisalign treatment consists of a series of clear aligner trays that can be used to straighten one's smile. its nearly invisible appearance makes it a popular alternative to traditional metal braces. Along with making your smile look better and improving your confidence, Invisalign can also correct several oral health issues and bite problems. Read on to learn about some of the bite issues that can be corrected through Invisalign treatment.
#1: Underbite
This type of bite issue occurs when the bottom teeth sit in front of the upper ones when one's mouth is closed. Underbites usually occur when the lower jaw grows faster than the upper one, and they can make it difficult to eat and speak properly. Having an underbite can also lead to excessive dental wear.
Invisalign can be used in conjunction with attachments like elastics, which are small rubber bands. Elastics connect the top and bottom aligners to create resistance between them. This helps guide the jaw into the correct position to get rid of one's underbite. Older patients or people who have severe bite issues may need traditional orthodontics to correct them.
#2: Crossbite
A crossbite occurs when the bottom teeth sit in front of the top ones and can sometimes be fixed with Invisalign. Clear aligners may be a good option for slight crossbites that only involve one or two teeth, but severe bite problems involving multiple teeth may require traditional braces. There are two main types of crossbites, which are:
Posterior – The lower back teeth fit over the top ones.
Anterior – The lower front teeth fit over the top ones.
#3: Open Bite
An open bite is when the top and bottom teeth don't touch when one's mouth is closed. They are one of the least common bite problems and develop when the jawbone grows at the wrong rate. An open bite can also result from childhood habits, such as thumb, finger, or tongue sucking. This is because these habits can prevent normal biting and lead to eating problems or issues with tooth eruption. Luckily, Invisalign can be used to move the teeth so that they meet in the correct way.
#4: Overbite
This bite problem occurs when the upper teeth stick out too far. It's normal to have a slight overbite, but having a larger one makes the top teeth more susceptible to premature wear and damage. Patients under age 12 can use Invisalign with a mandibular advancement appliance to shift the jaw into place as it continues to grow. Patients over age 12 can usually use Invisalign along with elastics to gradually move the jaw into the right position.
If you have one of the above bite problems, reach out to your dentist to set up a consultation. They will be able to give you a thorough exam to help you determine if Invisalign is the right fit to give you the healthy, beautiful smile you deserve!
About the Practice
If you've been on the lookout for a quality team of oral health professionals to assist you in correcting bite problems, Heart of Texas Smiles is here to help. They offer Invisalign treatment that can correct a range of bite issues, including overbites, underbites, open bites, and cross bites. The smile of your dreams will be yours before you know it! If you're ready to set up a consultation or want more information on Invisalign, visit Heart of Texas Smiles's website or call them at (254) 848-0240.