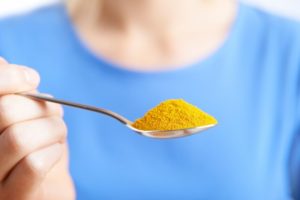 When you go online looking for a solution to a problem, there will always be some options for you to try at home. Everyone wants to have a white, healthy smile, so there are plenty of do-it-yourself teeth whitening remedies to be found on the web. A recently popular one involves using turmeric for teeth whitening. Whether you are going to seriously consider it or not, using a spice to whiten teeth sounds interesting. Is this legit? Keep reading to find out more from your dentist in Waco about this spice, if it can whiten your teeth, if it has any other benefits for oral health, plus other teeth whitening options you can consider.
What Is Turmeric?
Originating in Southeast Asia and India as a spice used for medicinal purposes, turmeric looks a lot like ginger, except that its flesh is a vibrant orange. You are also likely to encounter it as a dry yellow powder, in tablets, or a liquid extract.
Can Turmeric Whiten My Teeth?
The American Dental Association (ADA) has stated there is no scientific evidence that turmeric whitens your teeth. Most turmeric toothpaste varieties include ingredients like baking soda or calcium carbonate, which are natural whitening agents.
So, can turmeric actually stain your teeth? Even though it has an intense yellow color, you would have to eat or drink turmeric regularly for it to potentially stain. Fortunately, there are plenty of clinically proven teeth whitening methods for you to turn to.
Does Turmeric Have Benefits for Oral Health?
It may not whiten your teeth, but are there other ways turmeric can benefit your mouth? Recent research suggests it may promote good oral health by reducing symptoms associated with gum disease. Turmeric has also been shown to help reduce inflammation. Its antiviral and antibacterial properties help remove bacterial infections and heal swollen or bleeding gums.
Additionally, you can turn to turmeric for plaque and bad breath control along with those anti-inflammatory benefits when it is incorporated into a homemade mouthwash. It disrupts the cycle of plaque formation. Be sure to use the mouthwash in conjunction with your normal brushing and flossing routine.
Where Should I Turn for Teeth Whitening?
Fortunately, just because turmeric isn't the answer you seek for teeth whitening, you aren't without a solution. Your dentist in Waco offers take-home whitening trays for reliable bleaching. They can also provide in-office whitening, as well as a combination of the two.
If you want to whiten your teeth, you shouldn't look to a TikTok video for guidance or head to the spice rack. There are safe, proven options offered by your dentist that deliver results you'll be smiling about!
About the Practice
At Heart of Texas Smiles General & Cosmetic Dentistry, we value preventive care and patient education to help you achieve optimal dental health. We are diligent about continuing education courses to stay current in the ever-evolving dental field. It is very important that we earn your trust, and you expect a positive experience during every office visit. If you are interested in teeth whitening, we offer fast in-office treatment or convenient take-home kits. Learn more about your options during a consultation which you can schedule on our website or call (254) 848-0240.