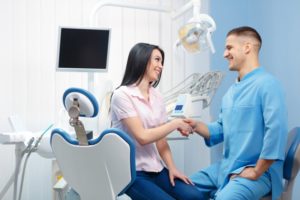 As a general rule, dentists do everything in their power to preserve as many natural teeth as possible. Still, there are exceptions – when having a tooth pulled is the best route to take. As you continue reading, learn about the benefits of tooth extraction.
The Potential Benefits of a Tooth Extraction
The terms 'pull' and 'extract' refer to the same process – removing a tooth. If a dentist recommends the procedure, one of the following may be a motivating factor:
To stop infection – If you have a severe tooth infection, it won't go away on its own. In fact, it can eventually travel to other parts of your body if not addressed. Having an infected tooth pulled is a way to prevent this from happening.
To relieve pain – An impacted or badly decayed tooth can cause intense pain. By having the tooth removed, you can experience a normal and pain-free life.
To correct overcrowding – Often, a partially or fully erupted wisdom tooth (also referred to as the third molar) can cause overcrowding. It can make the other teeth shift and potentially leave them exposed to bacteria growth at the root level. Removing the problematic tooth can provide the relief you need.
Understanding the Extraction Process
Before the extraction begins, the dentist will administer local anesthesia. After you're numb, he or she will free the tooth from the periodontal ligament with a tool called an elevator.
Tooth impaction increases the complexity of the procedure, as it requires the dentist to first make an incision into the gum tissue. After the tooth is removed, the socket is stitched, and a protective gauze is placed over the treatment site, allowing a blood clot to form.
How to Encourage Healing
It's not uncommon to experience some slight discomfort after the surgery, but it's typically quite manageable. You can take an over-the-counter pain reliever like ibuprofen (Advil, Aleve or Motrin) to reduce the discomfort. You should also avoid using any tobacco, as it can cause dry mouth and damage the vacated socket.
You'll also want to stick to a soft food diet for around 4-7 days, eating foods like soup, yogurt and apple sauce. Additionally, avoid chewing on that side of your face to prevent an injury.
If it's evident that you need to have a severely damaged, impacted or infected tooth pulled, the sooner you act, the better off you'll be. Then, by following the above guidelines, as well as the instructions from your dentist, you can fully recover from your tooth extraction in Waco.
About the Author
Dr. Nick Cobb is a graduate of the University of Texas Dental Branch-Houston. A technical-minded professional who also has a background in engineering, he takes a methodical and meticulous approach to every procedure he performs. Throughout his career, Dr. Cobb has remained quite busy, taking several hours of continuing education to stay abreast of the complex changes in dentistry. He performs tooth extractions at Heart of Texas Smiles, and he can be reached for more information or to schedule a visit through his website.