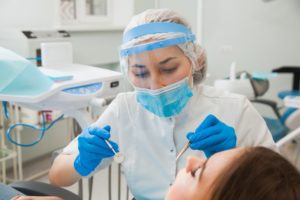 Since there currently is no cure or vaccine to combat COVID-19, it's essential that we all stay home and practice social distancing to prevent the spread of germs. While anyone can catch the novel coronavirus, some people can develop serious, life-threatening complications from it as well. The CDC reports that those who are of older age, have certain underlying health conditions, or a weakened immune system are at a higher risk of severe illness from COVID-19. To keep their at-risk dental patients safe, your Waco dentist has established a wide variety of new safety precautions to ensure you can get the dental care you need without jeopardizing your health.
Extra Protocols for Team Members for Your Safety
While your dental team has always adhered to the highest sanitation standards, they're taking even more precautions to protect you from germs, including:
Daily health checks: Every team member's day starts with a no-touch temperature check and health questionnaire to ensure everyone is ready and able to provide excellent dental care.
Change work clothes at work: Your dental team will now only change into and out of their clean scrubs inside the office to minimize risk of bringing any outside germs into the practice.
Personal hygiene standards: To ensure your dental team's hand hygiene is as effective as possible, they will no longer be wearing rings, watches, artificial nails, or any other hand jewelry.
Sequenced Patient Scheduling & Family Appointments
Your Waco dentist is working hard to keep you safe before you even arrive to their practice. Sequenced appointment scheduling has been implemented, which allows for more time and physical space between visits. Additionally, family friendly scheduling allows for up to six family members to be seen during the same visit. Not only is this more convenient, but it lowers your family's need for multiple trips outside the house and reduces their risk of potential exposure.
Virtual Waiting Rooms
When you arrive for your appointment, you can check in from the comfort of your car. This extra precaution is called a virtual waiting room, and it minimizes your contact with others. Instead of waiting inside the reception area with other patients, you can practice social distancing and go directly to your treatment room when it's ready.
Changes to the Inside of the Practice
Several important changes have been made to the inside of the practice as well, including:
Helpful signs and one-way traffic areas: Key parts of the office have one-way traffic areas and helpful signs to encourage social distancing.
Fewer chairs and no magazines or toys: Frequently touched items have been removed to reduce the risk of lingering particles and contaminated objects.
New HEPA air filters and clear plastic barriers: These new installations help block the movement of airborne particles and keep the air clean.
Regular & Extensive Disinfecting
All surfaces, tools, and equipment in each treatment room are thoroughly cleaned and sanitized between each patient. Alongside increased cleanings throughout the day, the entire practice is deep cleaned from top to bottom every night with hospital-strength disinfectant.
Now and always, your dentist's top priority is your wellbeing. If you need to visit them for care during the pandemic, you can rest assured that they are taking every precaution to keep you as safe and healthy as possible.
About the Practice
Heart of Texas Smiles is now open and seeing all patients at their Waco, TX office. They have always proudly met and exceeded the ambitious sanitation standards set forth by both the Centers for Disease Control and Prevention as well as the American Dental Association. To provide the dental care you need in these unusual times, they've established 23 additional infection control protocols to keep you, their staff, and the entire community safe. To learn more about their Commitment to Safety, more information can be found on their website or by calling (254) 776-3310.