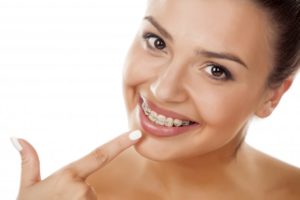 To slow the spread of COVID-19, federal, state and local officials have issued orders for American citizens to shelter in place. To further prevent more infections, most orthodontists have temporarily placed visits on hold. Thus, if an issue occurs with your braces, you need to know how to handle orthodontics at home. Read on to get some helpful tips for how to respond to some common issues that can arise.
Lost O-Ring
The o-ring is a small rubber band or thin wire (called a ligature) that holds the arch wire in the bracket/brace. If it becomes loose or disconnects, there are simple steps for reattachment.
The following explains how to respond, depending on the type of o-ring you have:
Rubber band – You can put it back in place using disinfected tweezers.
Wire ligature – Remove the portion that is loose with tweezers. If it's sticking out and threatening to injure your lip, use a Q-tip to gently move it away from your soft tissue.
Protruding Arch Wire
The end of the arch wire can sometimes become loose and irritate the mouth. This can especially happen when eating. You can prevent a scrape or cut by applying a pea-sized amount of dental wax to the end.
Discomfort
It's not uncommon to have some discomfort when wearing braces. After all, they apply pressure to the teeth to encourage them to move. However, you shouldn't be in constant pain. To help ease any discomfort, you can rinse with a salt-water solution and take an over-the-counter pain reliever like ibuprofen. If the pain becomes more acute, you should reach out to your orthodontist's office to determine whether you need to schedule an emergency visit.
Mouth Sores
If you're prone to mouth sores, then wearing braces can possibly exacerbate the problem. Thus, ulceration may develop on your cheeks, lips or tongue. A possible remedy is to apply a small amount of topical anesthetic (such as Orabase or Ora-Gel) directly to the ulcerated surface using a cotton swab. If you're not able to get any relief, then contact your orthodontist.
There is Still Help Available
Although most orthodontists have temporarily placed care on hold, there is still help available if you have an emergency situation. So if you've suffered a laceration that has resulted in profuse bleeding, or you're dealing with some other type of injury because of damaged braces, then you should reach out to your orthodontist. While some problems can be temporarily resolved by taking the right steps at home, it's best to illicit the expert guidance of your orthodontist so you can maintain healthy and strong teeth and gums.
About the Author
Dr. Nick Cobb earned his dental degree from the University of Texas Dental Branch-Houston. As an avid learner, he continues to further his knowledge by taking hours of advanced postgraduate education. Although he has temporarily placed regular appointments on hold due to the COVID-19 crisis, Dr. Cobb is available for emergency orthodontic care at Heart of Texas Smiles, and he can be reached for more information through his website.