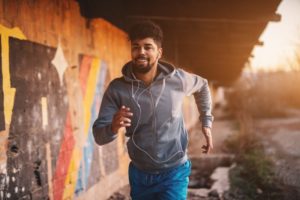 This June is Men's Health Month in Waco, the perfect time to learn how your mouth can impact your overall wellbeing. Certain oral issues are more commonly found in men, so knowing what to look out for can help you find and treat them before they turn into something more serious. Practicing preventive care could save you future headaches and hassle. Read on for some common oral health problems that you shouldn't ignore!
Jaw Pain Or Discomfort
People who have TMJ disorder may notice that they have pain or discomfort when they move their jaw. They can also experience headaches, neck and shoulder pain, and tooth sensitivity. Most often, this condition occurs because of teeth grinding and clenching, but the exact cause isn't known. While females are most likely to experience symptoms, men still do, so don't write it off!
Dry Mouth
Dry mouth may seem like no big deal, but your saliva is more important than you expected. It helps rinse away enamel-eroding acids in your mouth, bacteria, and plaque. All of these things can attack your teeth and leave them susceptible to cavities and dental decay. If you have any medical conditions or take medications that cause this, be sure to make your dentist aware so they can help you combat it.
Enamel Erosion
When you consume excessive amounts of acidic foods or frequently experience acidic reflux, this can cause your enamel to erode and leave your teeth vulnerable. Watching your diet and using ADA-approved enamel-repairing oral hygiene products can help you combat any lurking oral health problems.
Irritated And Discolored Gums
If you notice that your gums are bleeding, swollen, or discolored, you could be experiencing early symptoms of gum disease, oral cancer, or bacterial infection. When you visit your dentist for your routine checkups and cleanings, be sure to let them know about changes that you've noticed in your mouth so they can diagnose and treat any oral problems.
How Can You Protect Yourself?
Protecting your mouth can help reduce your risk of developing other illnesses and diseases, which is why it's important to practice good oral hygiene. The American Dental Association recommends brushing twice a day and flossing at least once each day to maintain a healthy mouth. Also, you can use an antibacterial mouthwash to help control harmful oral bacteria buildup. Scheduling your semi-annual checkups and cleanings with your dentist in Waco is one of the best ways to spot and tackle issues before they require further treatment.
Because this June is Men's Health Month, there's no better time to learn how your mouth can impact the rest of your health. Adjusting your oral hygiene routine and scheduling your routine visit with your dentist is a great way to look after your wellbeing. Save yourself time, money, and headaches by practicing preventive care!
About the Author
Dr. Theresa Lassetter was born and raised in Texas and graduated from the University of Texas Health Science Center School Of Dentistry at the top of her class. She's a member of several professional organizations and is proud to provide her community of Waco with high-quality and reliable dental care. She enjoys watching her patients leave her office flashing a healthy smile. For questions or to schedule a semi-annual checkup and cleaning, visit Heart of Texas Smiles' website or contact 254-776-3310.