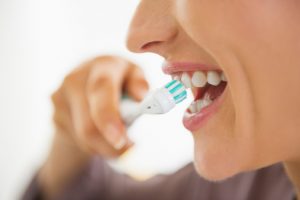 At Heart of Texas Smiles in Waco, TX, Dr. Nick Cobb, Dr. Ron Evans and Dr. Julie Foster want you and your family to have healthy and beautiful smiles. That's why we recommend scheduling dental cleanings and exams every six months. In addition to that, we count on you to practice regular oral hygiene care at home. To that end, we'd like to offer you some tips on how you can make sure that you and everyone in your household is brushing and flossing well.

Brushing Children's Teeth
If you have young children, then you'll want to supervise their brushing until they're at least seven or eight years old. Even though they may say, "I can do it myself," the fact is they are not likely to have the manual dexterity to adequately clean their teeth. Give them a toothbrush with soft, rounded bristles and let them start the process. Then, to make sure they've brushed every surface, you take over and finish the job. Some children like to "help" mommy and daddy brush their teeth, too. For very little ones, this can make brushing a fun activity. And because children are also susceptible to gum disease, be sure to floss their teeth, too.
Brushing Tips for the Whole Family
Just like the kids, everyone should be using a soft bristle toothbrush. Hard bristles may feel like they're doing a better job of cleaning, but they are much more likely to scratch tooth enamel than soft bristles. Using a toothpaste that is supplemented with fluoride, hold your toothbrush at a 45 degree angle against your teeth and gums. Focusing on two or three teeth at a time, brush gently—there's no need to press hard—in a small circular motion. Make sure to brush all the surfaces of your teeth: inner, outer and the top chewing surface. A good and thorough brushing, should take at least two to three minutes.
At night before bed, your at-home oral hygiene routine should end with flossing. We know you're tired, but believe us when we say the benefits of flossing are well worth the time. Brushing removes plaque buildup on your teeth, but flossing removes this sticky, bacteria-trapping film from between your teeth and below the gum line. The bacteria in plaque can lead to gum disease, so the importance of clearing this away cannot be overstated.
Call Our Office Today
If you would like more information on how you can improve your oral hygiene care at home, or to schedule a dental cleaning and exam, contact us at our office in Waco, TX. We also serve patients from the surrounding communities of Hillsboro, West, Hewitt, Woodway, Robinson and beyond.