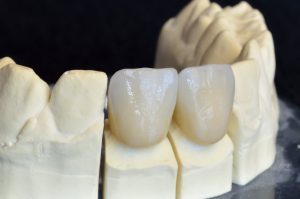 Crowns have become a staple in the dental industry. Patients from all over have chosen crowns for their smile and it can yield fantastic results. In years past, a crown procedure spanned over two office visits and hours of work for just a single tooth. That's time that you can't afford to miss, especially if it's during a lunch break at work. We want to give you results that you can see and feel quickly without spending too much time in our dental chair. Our Waco, TX office is proud to offer one of the most advanced dental products to hit the market as of late. Introducing CEREC same-day crowns. Comfort and convenience is a big part of what we do here, and you can see it in every smile we treat. If crowns are what you want or need but you don't have a lot of time to spend getting the typical therapy, we suggest CEREC same-day crowns. If you're interested in reading more, you're in luck!
CEREC Same-Day Crowns — What's The Big Deal?
It's one of the best ways to receive crown treatment in a very timely manner. The complex system incorporates computer technology and computer-assisted design tools to custom make the crown of your dreams. CEREC, or Chairside Restoration of Esthetic Ceramics, is like something out of the future. The technology is very advanced and it includes a digital infrared camera to precisely take an optical impression of a damaged tooth. We can practically make any restoration you need; no tooth is too hard to duplicate. The best part is, you'll see results the same day. How cool is that? Come in for a procedure and leave with a smile that can turn heads. What have you go to lose? Dr. Carmen is an expert at placing freshly milled crowns and he can bring stability and beauty back to your smile.
If it's benefits you're looking for, boy, does this system have them:
You can leave the office with a brand new smile not tomorrow, not the next day, but today
It's quick — get it done on your lunch break
Your mouth is digitally mapped so every fit is precise
The crowns are natural looking and blend in nicely with your teeth
Only high-quality ceramic is used
The crowns are less prone to cracking and other flaws
They can combat tooth sensitivity
They feel natural — you won't even notice once they're in
There are plenty of reasons to opt for CEREC same-day crowns, but those are just a few of the important ones. The days of long procedures and time spent in the dental chair are over.
Schedule Your Appointment Today
If you think CEREC same-day crowns are for you and would like to get a second opinion, please schedule an appointment with our dental team in Waco, TX. We're happy to extend this great service to our neighbors in Hillsboro, West, Hewitt, Woodway, Robinson and beyond.