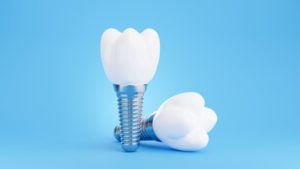 Dental implants are one of the most reliable tooth replacement solutions available today. In fact, according to the American Association of Oral and Maxillofacial Surgeons, dental implants have an incredibly high success rate of approximately 95 percent! However, dental implant failure can still occur on occasion. Removing it is often the best course of action to preserve a person's oral health. Do you feel pain around your dental implant or just feel like something isn't quite right? Keep reading to learn more about removing a failed implant in Waco.
What Causes an Implant to Fail?
When dental implants fail, it is often connected to one of the following factors:
Poor oral hygiene – Without proper brushing and flossing, gum disease or peri-implantitis can develop and contribute to implant failure.
Smoking tobacco – Studies have shown that as many as one in five smokers experience dental implant failure.
Medical conditions – Autoimmune diseases and other conditions that cause the body to heal slowly can prevent successful osseointegration.
Poor placement – Dental implants that are not placed in a strong area of the jawbone are more likely to fail.
How Does the Implant Removal Process Work?
There are several different techniques to remove failed implants in Waco. However, the goal is always the same: to preserve as much healthy bone as possible.
Your dentist may use a special tool called a trough bur to cut a tiny portion of the bone along the implant edge. This helps to release the tension on the implant and makes it easier to remove. Once the implant has been slightly separated from the surrounding bone, your dentist will gradually loosen and extract it.
You can rest assured that dental implant removal is virtually pain-free! Your dental team will likely utilize local anesthetic or sedation dentistry to ensure you are comfortable throughout the implant removal procedure.
Can You Get a New Implant Right Away?
In some cases, a dentist may be able to place a new implant at the same time they remove the old one. This is typically only possible when a patient has adequate jawbone depth and does not have any oral infections. However, most patients must wait for several months until their jawbone has fully healed before they can get a new dental implant.
Implant Removal Aftercare
Some slight swelling or soreness is normal after removing a failed implant. To manage any lingering discomfort, be sure to take prescription pain medication or over-the-counter painkillers as instructed by your dentist. You should also stick to eating soft foods for the first few days after surgery.
In addition, if an oral infection contributed to your implant failure, you may also need to complete a course of antibiotics. Finally, be sure to attend regular follow-up appointments so your dentist can monitor your recovery and plan for your future restoration.
If removing a failed dental implant in Waco is the right call for your smile, don't worry! By partnering with an experienced dentist, you can soon reclaim a complete, beautiful smile.
About the Practice
At Heart of Texas Smiles General & Cosmetic Dentistry, we value preventive care and patient education to help you achieve optimal dental health. We are diligent about continuing education courses to stay current in the ever-evolving dental field. It is very important that we earn your trust, and you expect a positive experience during every office visit. If you need a dental implant removed or want to get a new one, our dentists can perform the entire treatment process at our office location. Schedule a consultation on our website or call (254) 848-0240.