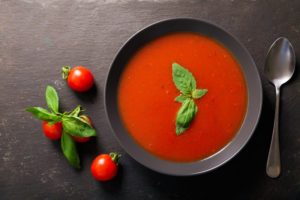 All-On-4 can deliver a full, confident smile with fewer implants compared to traditional implant treatment. But what does recovery from All-on-4 surgery in Waco look like? You'll need to make a few changes to your diet, and you can expect some slight discomfort. Here's everything you need to know from your implant dentist when going grocery shopping before your surgery.
Stage 1: 1-2 Weeks After Surgery
Liquid Diet
During the first few days until about two weeks after surgery, you may experience soreness and swelling around your mouth, jaw, and throat. This mild discomfort is completely normal and will gradually subside. During this initial recovery period, however, you should stick to a liquid diet. You can begin drinking liquids immediately after surgery. Try to drink only cool liquids within the first 48 hours and avoid hot or spicy liquids for the first several days after surgery.
Avoid Straws
While it may seem more convenient to sip smoothies and other drinks through a straw, you should actually avoid using straws at all costs. The suction from a straw can loosen blood clots that form near the surgery site and delay healing.
Safe Foods
It's important to drink fluids that are packed with nutrition to prevent infection and speed up your recovery. Here are some of the many foods and drinks you can consume:
Water and milk
Tea and coffee
Fruit juices
Broth (bouillon: beef, chicken, vegetable)
Soups (especially cream-based varieties)
Meal replacement shakes (Ensure, Boost, Special K)
Yogurt drinks
Protein shakes
Smoothies
Gelatin (Jell-O) and pudding
Ice cream and frozen yogurt
Stage 2: 2-12 Weeks After Surgery
Soft Food Diet
After about two weeks, any soreness should fade away and you can switch from a liquid diet to eating soft foods. Over the next few months, your implants will fuse directly with your jawbone through "osseointegration." Eating soft foods helps ensure the success of this important process. Avoid munching on hard, chewy, or crunchy foods during this period.
Fruits and Vegetables You Can Eat
All fruits and vegetables that require minimal chewing are fair game! This includes:
Mashed foods like applesauce, avocado, and cauliflower
Soft fruits like bananas and watermelon
Anything canned and without skin or seeds
Anything baked or cooked to a soft consistency
Bread, Pasta, and Grains You Can Eat
For breakfast, you can enjoy Cream of Wheat (farina), oatmeal, or pancakes. For lunch and dinner, it is safe to eat soft bread, cooked pasta, quinoa, and mashed potatoes.
Protein You Can Eat
Protein helps rebuild and repair tissues affected by oral surgery and enables the body to fight infection. During this stage of recovery, you can eat:
Cheese
Eggs
Yogurt
Pureed stews
Sloppy joe (loose meat sandwich)
Chili
Hummus
Plan Ahead for Your Recovery
Be proactive to ensure a smooth recovery! Before undergoing All-on-4 surgery, spend some time researching recipes that include the options mentioned above. Be sure to stock up on the right food items and ingredients beforehand so you can rest and relax after your implants are placed.
Dental implants can make a big impact on your quality of life. In the short term, proper planning when it comes to your diet for the weeks after surgery can work wonders for your All-on-4 recovery in Waco!
About the Practice
At Heart of Texas Smiles General & Cosmetic Dentistry, we value preventive care and patient education to help you achieve optimal dental health. We are diligent about continuing education courses to stay current in the ever-evolving dental field. It is very important that we earn your trust, and you expect a positive experience during every office visit. If you are considering All-on-4 surgery in Waco, know that it is an efficient and cost-effective solution to severe tooth loss. Schedule a consultation on our website or call (254) 848-0240.