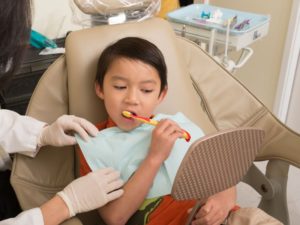 Is your child afraid of the dentist? That's not surprising; according to Dentistry Today, almost one in five children suffer from dental anxiety. This can make things challenging for the dentist in Waco, of course, but in the long run, if your little one's fear stops them from getting proper oral health care, it could ruin their smile. So how to solve this problem? Some practices offer sedation for cases like this, but there's another approach that doesn't require drugs. Learn how behavioral therapy could reduce a child's dental anxiety.
What is Behavioral Therapy?
Cognitive behavioral therapy – also known as CBT – helps people who suffer from negative thoughts about themselves and correct unhealthy behavior. It's already used as a treatment for depression, eating disorders and several kinds of phobias. Therapists have recently been studying the technique to see if it can help children with dental anxiety.
While receiving CBT, the patient sees a therapist once a week. The initial sessions are meant to help identify the underlying cause of the patient's negative reactions to certain situations or issues; once that's done, the therapist comes up with some tests that'll help show whether those feelings and beliefs are actually true. Over time (usually several months), the patient's way of thinking changes – and thus, so does the way they feel.
Can Behavioral Therapy Reduce Dental Anxiety?
While using CBT for children who are afraid of the dentist is a relatively new approach, initial results are promising. One study of children between ages 9 and 16 with dental anxiety found that on average, there was a significant reduction of fear after the therapy was complete. More research is still needed, but everything up to this point suggests CBT could be beneficial for childhood dental fears.
Could Your Child Be Sedated Instead?
Of course, the traditional method of keeping dental phobias under control is to use some form of sedation. For example, most practices offer nitrous oxide or "laughing gas" that helps patients relax and wears off quickly afterwards. In some cases, they may also offer oral conscious sedation, which is where patients receive medication that'll put them in a dreamlike state; they won't feel any discomfort, but they can still answer questions and follow instructions.
These methods of sedation are considered safe, but as a parent you might have concerns about relying on them to help your children. Furthermore, these treatments only temporarily relieve dental anxiety; they can't cure it altogether. CBT may be the better option when it comes to overcoming a phobia instead of just controlling it.
Talk to your dentist about whether behavioral therapy could help your child (or anyone else in your family with anxiety). They'll listen to your questions and point you in the right direction for treatment. If you want to make sure your child doesn't avoid oral health care as an adult, CBT could give them the courage they need to face their fears once and for all.
About the Practice
At Heart of Texas Smiles in Waco, Drs. Nick Cobb and Theresa Lassetter take a patient-first approach to make sure you always receive maximum benefits from your dental health care. They both frequently participate in dental lectures, meetings and conventions so that they're always aware of the latest techniques and equipment available. To schedule an appointment for your child or ask about techniques for dealing with dental anxiety, visit their website or call (254) 776-3310.