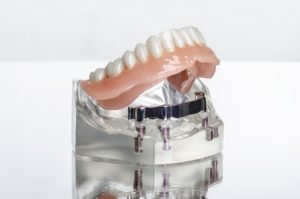 Are you among the 35 million Americans who do not have any remaining natural teeth? You have probably replaced them using a traditional denture. Although they allow you to eat many of your favorite foods and feel confident while smiling and speaking, you have heard about an alternative treatment. Now, you are asking yourself what is a hybrid denture in Waco? This treatment allows you to enjoy the next best thing to your real teeth using the security of dental implants.

What is a Hybrid Denture?
A traditional denture uses an impression of your mouth to create an acrylic base to hold your custom-made prosthetic teeth. Suction or an adhesive is used to attach it to your gum tissue. New innovations in dentistry now improve their aesthetics and fit, but they will never truly feel natural, which is why many people prefer hybrid dentures.
Hybrid dentures, also known as implant-retained dentures, do not use suction or an adhesive to hold your denture in place. Instead, 4 titanium implant posts are surgically placed into your jawbone. They serve the same purpose as the roots of your teeth. As a result, they stimulate new bone growth to allow your jaw to fuse to them for a stable foundation for your new smile.
A metal bar is connected to the posts, which allows your custom-made denture to be connected to it. You will never need to worry about any slipping or irritation again while enjoying a solution that can last for several decades.
Benefits of Implant Dentures in Waco
The implant posts allow you to enjoy several benefits that are not possible using a traditional denture, such as:
Over a 95% 10-year success rate.
All-ceramic material allows them to closely look natural.
Regain as much as 70% of your biting force.
No slipping or irritation.
Preserves your jawbone's density.
Protects your facial structures.
Easy maintenance and care.
Cost-effective, long-term solution.
Are Hybrid Dentures Right for Me?
Generally, if you have good oral and general health, you are a candidate for hybrid dentures; however, you still require a consultation with your implant dentist to ensure they are right for you. Besides a visual examination, x-rays and a CT scan are also taken to assess the health of your jawbone. It must be able to support the implant posts. If your jawbone's density is compromised, do not worry. You can still get implant-retained dentures with a bone grafting procedure.
Your dentist creates the customized treatment plan you need to invest in your smile and your quality of life with a successful solution. You can join more than 500,000 people this year who are choosing dental implants to replace their missing teeth.
About Dr. Nick Cobb
Dr. Nick Cobb combines the art and science of dentistry to create healthy, beautiful smiles. He offers a variety of advanced treatments, including hybrid dentures. You can enjoy the security of dental implants using high-quality materials. Contact Heart of Texas Smiles today to see if implant-retained dentures are right for you.