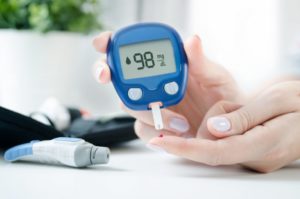 This November is National Diabetes Month, which means there's no better time to learn how diabetes affects your oral health in Waco, TX. For anybody with a health condition, it's important to take the time to learn the best ways to care for your body and prevent the condition from causing additional issues. With a great dentist by your side and the right tools and preventive tips in your back pocket, you can keep your dental health in tip-top shape.
Diabetes and Oral Health Concerns
If you have type I or type II diabetes, your blood sugar levels can impact the health of your teeth and gums. By knowing what you're at an increased risk of developing, you can take extra precautionary measures to avoid these issues and keep your oral health in great shape. The higher your blood sugar levels, the higher your chances of developing these dental issues are:
Cavities and Dental Decay: Cavities are a common oral health concern for everyone, but if you have high blood sugar due to diabetes, your mouth will contain more sugars and starches. These substances attract harmful oral bacteria that release acid that erodes your enamel, leaving your teeth vulnerable to decay.
Early Gum Disease (Gingivitis): Diabetes affects your immune system and ability to fight off infections and oral bacteria. Without regular brushing and flossing, these bacteria can accumulate and release harmful waste like toxins that cause swelling, irritation, bleeding, and soreness.
Late-Stage Gum Disease (Periodontitis): When gingivitis goes left untreated, it can develop into periodontitis, which tends to be a more serious concern for diabetics. This disease can also cause blood sugar levels to rise, making your condition more difficult to keep under control.
Thrush: Thrush is a fungal infection that causes red and white patches to appear in your mouth and is common among diabetics.
Dry Mouth: Dry mouth may not seem serious, but it can result in the accumulation of harmful bacteria, plaque, and tartar, and is a common condition among diabetics.
Dental Care Tips for Diabetics
Diabetes can be hard to control by itself. When you add several oral health conditions into the mix, it can have serious implications on your overall wellbeing and everyday quality of life. That's why it's important to take the proper preventive measures to ensure that your teeth and gum health don't decline. You can do this by following some of these tips:
Manage your diabetes by controlling your blood sugar level.
Brush your teeth twice each day for two minutes with fluoride toothpaste.
Floss every day.
Rinse your mouth with antibacterial mouthwash every day.
Visit your dentist every six months for checkups and cleanings.
Inform your dentist that you have diabetes.
Keep on the lookout for the early signs of gum disease.
Don't use tobacco products that can increase your risk of oral health issues.
The best way to keep your oral health in good condition while managing your diabetes is to develop an everyday hygiene routine with your dentist's help. They can let you know what areas of your mouth need to be cleaned more thoroughly, special oral hygiene products that will be more efficient and effective, and other professional tips that will ensure that your overall health remains in great shape.
About the Author
Dr. Nick Cobb's passion is taking care of his patients and ensuring that their oral health and overall wellbeing remain great. He equips his office with the latest dental technology so he can diagnose and treat any issues before they have a chance to progress. He also believes that every patient should have access to high-quality dental care that they deserve, which is why he offers affordable pricing. For questions or to schedule a routine checkup and consultation to maintain your health, visit Heart of Texas Smiles' website or call 254-776-3310.