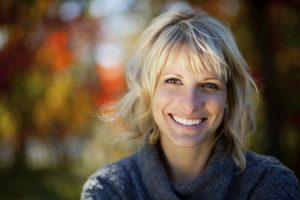 If you have dental implants in Waco, then you've made an excellent choice for your tooth replacement. Implants not only restore your smile and let you eat and speak with confidence, they also help keep your jawbone healthy and strong. With time, however, you may begin to notice that the gum tissue surrounding implants seems to have thinned. The problem may actually be inadequate bone width that results in gum recession and dehiscence (opening) of tissue around an implant. Connective tissue grafting may then be recommended to improve dental implant esthetics.
Connective Tissue Grafting
Connective tissue grafting—also known as gum grafting or soft tissue grafting—is a treatment dentists use to add tissue where there isn't enough. A small section of tissue is removed from another part of your mouth and then stitched into place where gums have thinned around an implant. The graft is usually taken from the roof of your mouth, or palate.
Connective Tissue Grafting for Dental Implant Esthetics
Why might connective tissue grafting be necessary if you have dental implants? Insufficient bone volume or worsening gum health and recession might expose implant threads. If this happens, then connective tissue grafting can build up gum tissue around your implants. In this way, implant threads will not show and your gums will once again provide needed support.
Maintain Good Oral Hygiene with Dental Implants
How can you avoid needing a connective tissue graft? Pay close attention to your oral health. Dental implants may not be real teeth, but they need just as much care.
Therefore, brush and floss your implant-restored teeth at least twice every day, just as you do your natural teeth. Be sure to use a soft toothbrush, which is less likely to scratch your tooth restoration, and fluoride toothpaste. Then floss around all of your teeth. This removes plaque, which can accumulate around a dental implant and eventually cause a bacterial infection called peri-implantitis. Left untreated, peri-implantitis weakens the connection between implants and the surrounding bone tissue that holds them tightly in place. Ultimately, peri-implantitis can make implant removal necessary.
If you would like more information about connective tissue grafting in Waco, please schedule an appointment with your dentist who will be able to assess the condition of your implants and make the appropriate recommendation.
Meet the Doctor
After graduating from the University of Texas Dental Branch-Houston, Dr. Nick Cobb came to Waco to establish his dental practice and his home. He enjoys providing patients with state-of-the-art dentistry so they have both healthy and beautiful smiles. Call to schedule an appointment with Dr. Cobb or his colleague Dr. Lassetter.