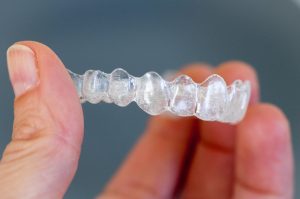 Need braces? You may be reluctant to cover your teeth with traditional metal braces for two or more years, and we understand. But aren't clear and accelerated options more expensive? Not always. Heart of Texas Smiles is offering Fastbraces or Invisalign in Waco for just $199 per month! Some insurance cases can be even lower. That's a deal we are excited to share!
Comparing Invisalign, Fastbraces
Past the age of 13 or so, many patients are reluctant to choose traditional braces. Fortunately, options like Invisalign and Fastbraces provide excellent alternatives. Invisalign is a clear braces treatment that uses a series of clear aligners to gradually shift teeth into the proper position. Invisalign is a largely self-directed treatment. Your custom aligners are shipped directly to you, and you can begin treatment immediately. Wear each tray for two weeks before advancing to the next in the series. Visit your dentist every six weeks as recommended, and you will gradually advance your way to your more beautiful, confident smile.
The patented wire and bracket system of Fastbraces moves teeth much faster than traditional braces. In fact, the average Fastbraces treatment lasts just three to 12 months. Fastbraces' triangular design, cutting edge techniques, and special heat-activated wire move teeth faster, more comfortably, and more affordably than traditional metal braces.
Importance of Orthodontic Treatment at Any Age
It's never too late to choose to straighten your teeth. The benefits of having teeth that line up the way they should go beyond the cosmetic. Straight teeth are easier to clean, improving your dental health and reducing your risk of developing gum disease. And when your upper and lower jaw line up the way they should, your TMJ (temporomandibular joint) is spared unnecessary stress. TMJ dysfunction results in chronic pain, headaches, tingling extremities, and other uncomfortable symptoms.
At Heart of Texas Smiles, Dr. Cobb is the Invisalign Premier Provider leading our team of award-winning dentists. Premier Providers have been recognized for their exceptional Invisalign expertise. Dr. Cobb has helped hundreds of patients enjoy the benefits of straighter teeth with the clear braces system — and we are revealing additional smile success stories every single day.
Numerous Benefits of Invisalign and Fastbraces
Invisalign and Fastbraces are excellent orthodontic alternatives. Some benefits of these treatments include…
Invisalign removable aligners allow you to eat whatever you want throughout treatment.

Brushing and flossing are as easy as before with removable Invisalign trays.

Fastbraces handles a wider range of treatments.

Fastbraces is completed in less than half the time of traditional braces.

Older teens and adults benefit from Invisalign and Fastbraces.
And the best thing? Both alternative orthodontic treatments are now more affordable than ever at Heart of Texas Smiles. We are happy to offer our patients a straight, beautiful smile for as low as $199 per month. People with certain insurance plans may even benefit from added savings through this offer. Please get in touch with our office to learn how you can save big time on your orthodontic treatment! Request an appointment with your dentist in Waco today.