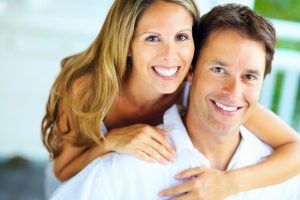 We've got some good news for you this Monday morning: Heart of Texas Smiles is offering a special for our patients who could use orthodontic treatment in 2016. If crooked, gapped or crowded teeth are affecting your or a loved one's smile, you'll be so excited to know about Fastbraces. Just like their name suggests, Fastbraces straighten teeth quicker than any option available today. What's even better? Right now, you can benefit from this incredible treatment starting at just $2,999! Keep reading to learn more about the system — and then prepare yourself for big time smile improvements this year.
Fastbraces are the best orthodontic option
At Heart of Texas Smiles, we love Fastbraces because we're passionate about providing excellent treatments for our patients looking to achieve their dream smiles. Let Drs. Cobb, Evans and Foster help you get straighter teeth in 2016 with Fastbraces!
How Fastbraces work
Completed in as little as a few months or up to one year, Fastbraces work in half the time of traditional braces because they move the tooth and its root at the same time — two jobs that, perhaps unnecessarily, have been kept separate in the past.
Fastbraces can correct a number of orthodontic issues for children, adolescents and adults.
Crowded teeth

Open bite, when top and bottom teeth don't meet

Canine teeth that are high in the gum line

Overbite, where the top teeth reach far over the bottom

Crossbite, where the top and bottom teeth don't meet properly

Spacing or gaps between teeth
Advantages of straighter teeth with Fastbraces
The benefits of straighter teeth are numerous. Not only do they make a smile more attractive, but a properly aligned bite also promotes good oral and overall health. When your teeth fit together properly, your jaw, gums and general wellbeing stay strong and healthy, too.
Fastbraces in Waco: Now more affordable than ever
If you're excited about the rapid orthodontic possibilities of Fastbraces, you're not alone. Numerous Waco residents have already benefitted from this treatment through Heart of Texas Smiles. But the even better news is the fact that now, Fastbraces are more affordable than ever!
For a limited time, we're offering the Fastbraces treatment starting at just $2,999. We want everyone in our community to achieve the straighter, more beautiful smiles they've always dreamed of — and we know Fastbraces is an incredible way to do just that!
This is a limited time offer. Let us know you're interested today!